Daikin launches GCC's first high ambient inverter air conditioning system with R32 refrigerant
Daikin Industries, the world's largest manufacturer of heating, cooling and refrigerant products, has announced today the launch of GCC's first commercialised high ambient air conditioning system to use R32, an alternative refrigerant to R22 with zero ozone depletion potential and lower global warming impact than R410A refrigerant.

"The unique combination of R32 and inverter technology in the new Daikin air conditioner range offers end-users the opportunity to benefit from class-leading energy efficiencies, with excellent cooling capacity and high indoor climate comfort, while lowering the environmental impact," said Sana Hamdani, Product Marketing Manager of Daikin Middle East & Africa.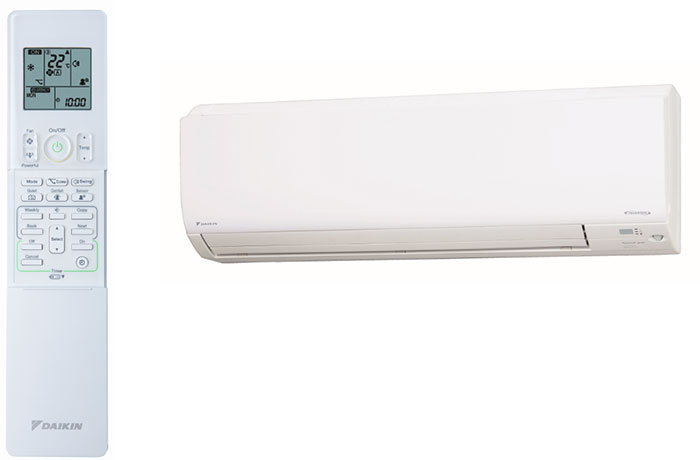 Daikin's wall-mounted cooling only and heat pump air conditioners come in three capacities: 18, 24 and 28 MBH (thousand British thermal unit per hour). By incorporating the best available technologies, these units offer the best nominal and seasonal efficiencies in line with real-life Middle East operating conditions. They can achieve high Energy Efficiency Ratio (EER) (Btu/kWh) in cooling of up to 13.3 at T1 conditions (35 °C) and up to 8.6 at T3 conditions (46 °C), exceeding the most stringent regulations of the region and making them the most energy efficient air conditioner of their type in the market.

Adding to that, the tropical compressor is capable of operating fully in extreme weather conditions for at least 52°C and delivering a powerful year-round cooling performance regardless of the outside temperature, up to 1.5 times faster than traditional systems.
In addition, the units are whisper quiet with sound pressures as low as 32 dBA (A-weighted decibels). They deliver an improved air flow pattern, reaching the furthest corners of a room. The intelligent eye will further enhance the energy efficiency without compromising the comfort by adjusting the set point according to the occupancy level of the room. The system comes with a user-friendly wireless control.

Moreover, all units have a Titanium Apatite air purification filter to improve air quality by absorbing and decomposing microscopic particles and organisms, while removing odours.

R32, a chlorine-free, single-component refrigerant, has a global warming potential of about one-third compared to the more commonly used refrigerant R410A. Up to 15% less refrigerant is needed compared to an equivalent air conditioner system with R410A.
Globally, Daikin R32 air conditioners were also introduced in many markets such as Australia, Europe, New Zealand and Asia. In Japan alone, approximately 5 million units were sold by Daikin, out of the 8 million total sales.

In the USA, the Environmental Protection Agency (EPA) has announced on March 10th the approval of R-32 refrigerant for use in certain air conditioning applications.

"Daikin is renowned for its pioneering approach to product development, with more than 90 years' experience in the design and manufacture of air conditioning technologies. As part of its serious commitment towards the environment, Daikin aims at developing systems that improve comfort levels while having low environmental impact. Refrigerant choice is a key factor in the drive to maximise energy efficiency and to minimise the global warming impact of systems," said Michel Farah, Product Planning Director.