Daniel Libeskind and Cosentino unveil in Frankfurt the "Musical Labyrinth" installation made with Dekton
Since May 9, 2016, Frankfurt has been home to the installation "Musical Labyrinth" by the renowned American architect Daniel Libeskind. In a new collaboration with Cosentino Group, leading producer and distributor of innovative surfaces for architecture and design, the architect yesterday unveiled this installation, made with the ultra-compact surface Dekton® and located in the plaza of Frankfurt's Alte Oper, in a ceremony attended by various media representatives.

This piece will be one of the core elements in the "One Day in Life" initiative, taking place on 21 and 22 May, in which Libeskind and the management team of Frankfurt's Alte Oper have designed a series of over 75 live concerts in 18 different locations throughout the city, all within the space of 24 hours. One of Europe's cultural landmarks of the year, in which Dekton® by Cosentino acts as contributor and primary sponsor.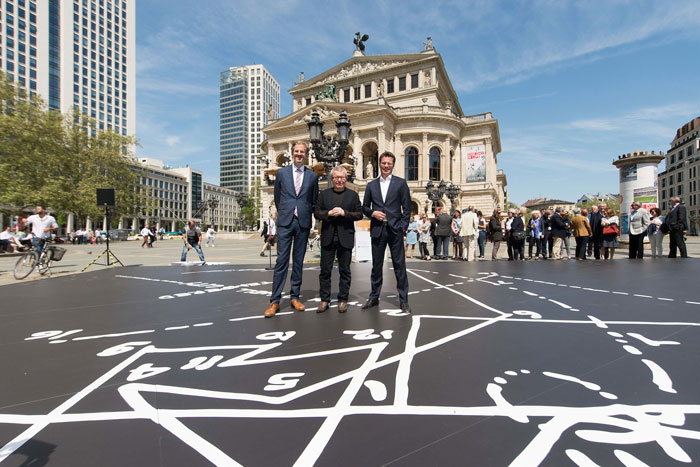 Covering 289m2, "Musical Labyrinth" simulates a deep black landscape and features an engraving in white based on a unique original drawing by Libeskind, created as part of the "One Day in Life" initiative. This is possible thanks to the use of Cosentino's ultra-compact surface, which, in addition to its outstanding physical performance and strength, can also be customised using techniques such as etching.

"Musical Labyrinth" is made up of 80 customised Dekton® slabs in the colour "Sirius", each measuring 3.2m x 1.4m with a depth of 2cm. These slabs serve as a perfect canvas for Libeskind's design to be applied using sunken relief in white. The lines of the drawing show an imaginary labyrinth in the city, indicating in turn each of the points that correspond to the 18 venues where the various "One Day in Life" concerts and performances will be held.

In addition to Libeskind himself, the unveiling ceremony was also attended by the Alte Oper's General and Artistic Director Dr Stephan Pauly, Country Manager for Cosentino Germany Pierre Heck, and Director of Marketing and Communication for Cosentino Group Santiago Alfonso.

In the words of Daniel Libeskind: "This installation will be the core element of the project, and its role will be fundamental while the concerts are being held. Starting from today, people are now invited to walk through the labyrinth and interact with the structure. Every city creates its own structure via its dreams. The streets we walk along and the topography we experience exist simultaneously in reality and in mystery."
Categories: