Dar Al Arkan Launches Mirabilia Villas Development with Interiors by Roberto Cavalli
Dar Al Arkan, the largest listed real estate developer in the Kingdom of Saudi Arabia, today announced the launch of the SR 600 million Mirabilia upscale residential villas with interiors by Italian fashion house Roberto Cavalli, in the SR 10 billion Shams Ar Riyadh Development.

A ceremony was organised in Riyadh to launch this high-profile development and partnership with Italy's topmost luxury fashion brand. The event was attended by Yousef Bin Abdullah Al Shelash, Chairman of Dar Al Arkan, Gian Giacomo Ferraris, CEO of Roberto Cavalli Group, who flew in to Riyadh especially for the occasion, in addition to a number of government officials, diplomats, dignitaries and investors.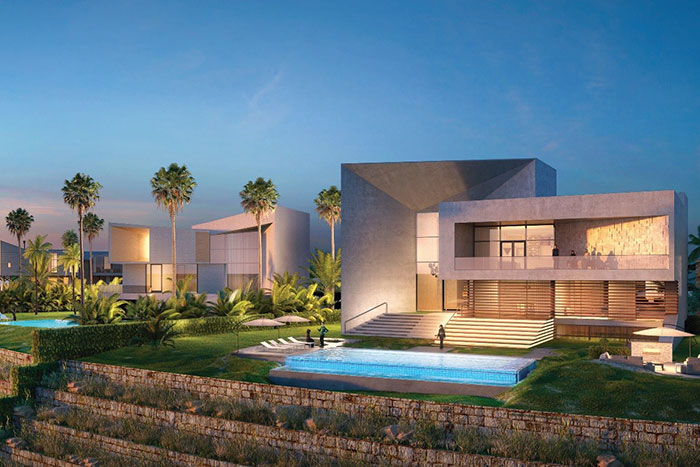 Mirabilia, or "Marvels" in Latin, presents a collection of high-end custom-built three to seven bedroom residential villas that range from 300 sq.m. to 1600sq.m. in the fashionable five million square meters "Shams Ar Riyadh" mixed-used development. These premium residential villas overlooking Wadi Hanifa will feature the finest architectural designs and the ultimate expression of fashion interiors by Roberto Cavalli. The floor-to-ceiling glass walls invite panoramic views of the breathtaking lush green vistas of Wadi Hanifa to blend with Roberto Cavalli interiors inspired by wildlife and nature, in a fusion of universal harmony.

Strategically located on King Khalid Road, the iconic "Shams Ar Riyadh" is a premium development and is the first of its kind in the Kingdom of Saudi Arabia, designed as a world-class "city within a city". The project comprises of residential, commercial, and mixed-use spaces incorporated with the finest facilities for an exclusive lifestyle, overlooking the stunning views of Wadi Hanifa, which adorns its gardens, parks and walkways.

The mixed-use development is a self-contained community that expresses luxury and distinction in each of its components; residential, commercial, educational, medical, recreational and religious. It features vibrant retail centres, the finest international restaurants and cafés by world-famous culinary legends overlooking the wonderful Wadi Hanifa, lush green landscapes and walkways, children's play areas, schools, clinics, government offices and mosques.

Infrastructure works investment so far is of over SR 1 billion, including two power substations as well as main access roads.

Saudi Basic Industries Corporation (SABIC), entered into a strategic partnership with "Shams Ar Riyadh" to create an exceptional residential ambiance with a blissful urban existence for its employees and their families. SABIC Residential Complex comprises of 600 fully equipped residential units built on a 1.8 million sq.m area. Many of SABIC's team members moved in starting 2017.

Yousef Bin Abdullah Al Shelash said: "Mirabilia will redefine luxury living, offering its residents exclusive experiences right here in Riyadh, in this vast unique landscape that combines meticulously curated urban indulgence from the high-end Italian fashion house Roberto Cavalli with the alluring Wadi Hanifa's marvels. Mirabilia's new blueprint will set the tone for this amazing region in the capital, Riyadh. I am particularly delighted with our partnership with the Roberto Cavalli Group, which encapsulates the true meaning of high-end luxury and is an embodiment of beauty, design and artistry".

Gian Giacomo Ferraris commented: "We are thrilled to be entering for the first time as a group to the real estate sector in Saudi Arabia through such a futuristic project that personifies modern extravagance. The wild beauty of Wadi Hanifa, combined with the sophistication of the architecture and landscape designs, modern living and fascinating panoramic inside-out sceneries of Mirabilia, will help our designs break the rules once again to present a collection of individual, exotic styles and experiences to sophisticated Saudi families and investors who have selected the wonders of Mirabilia as their home of choice."