DC Pro Engineering Awarded Prestigious Dubai Chamber CSR Label
DC Pro Engineering UAE, a leading authority in the field of District Energy in the world and renowned sustainability leader in the field of Green Building MEP Designs in the region, has been awarded the Dubai Chamber CSR Label.

The certification acknowledges international best practices in terms of strategies, policies, practices and implementation of corporate social responsibility and sustainability.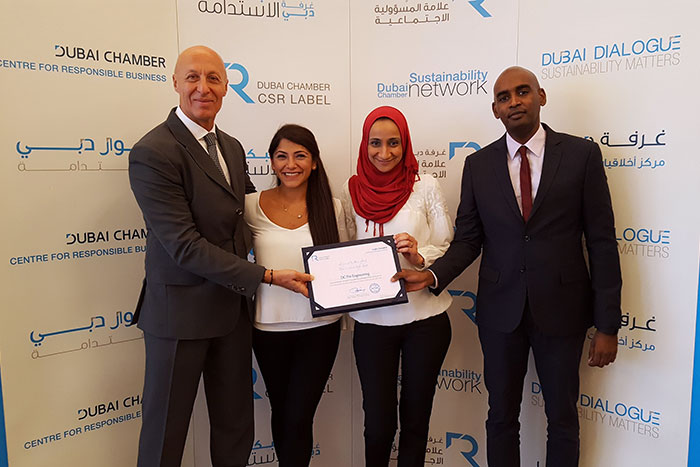 Receiving the highly prestigious award from His Excellency Majid Saif Al Ghurair, Chairman of the Dubai Chamber, Fouad Younan, Managing Director of DC Pro Engineering said the achievement reflected DC Pro Engineering's to its green principles.

"This award recognises DC Pro Engineering's commitment to the wider the community, as well as our pledge to ensure sustainability in business and broader industry," said Younan.

DC PRO has a growing interest in CSR initiatives and has already launched several breast cancer awareness and blood donation campaigns in addition to supporting entrepreneurship and empowerment within the region's youth and female populations.

As part of its overall CSR strategy, DC PRO focuses on developing products and services that have a positive impact on the community and the environment. The company invests considerable efforts to develop energy efficient solutions for construction purposes and actively provides employment opportunities to young individuals in the form of internships.

The Dubai Chamber CSR Label has been designed to provide a diagnostic model, as well as a learning and development tool that will help companies of all sizes, sectors, and operations to define and improve their local corporate social responsibility strategy, related policies, and management practices.