About Suspended / Drop Ceiling Tiles
Brochures

Suspended / Drop Ceiling Tiles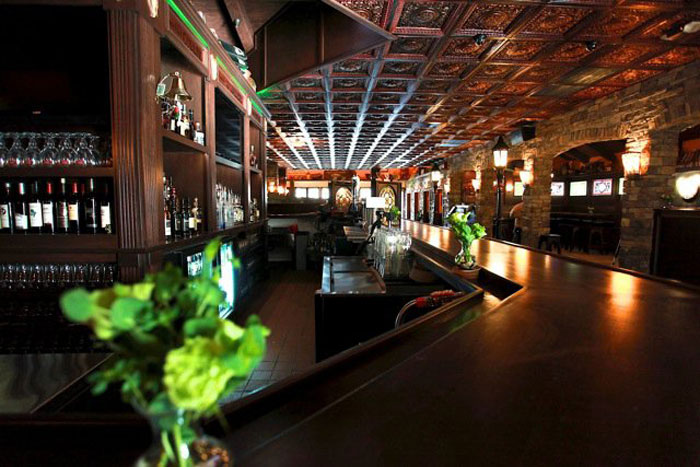 200+ Designs
75+ Colors for Real Metal Tiles Available
Drop Ceiling Hardware
3-Dimensional
Real Metal
Faux Metal
Easy Drop in Install
Class "A" Fire Rating
Installation video
Step by Step Instructions
Can be Cut to Size
Drop-in Decorative Ceiling Tiles
If you want the look of an old time tin ceiling, but are concerned your existing ceiling is too out of level or might not provide enough support, consider a drop-in decorative ceiling tile system. You might think that you've never seen a drop-in ceiling, but just look up the next time you're shopping at a store in the mall or eating in your favorite restaurant. Drop-in ceilings have been a favorite of commercial builders for years as they allow easy access to wiring and plumbing above by simply lifting a tile and they're very easy to install.
The same traits that make drop-in tiles popular for commercial use can also help you upgrade a ceiling in your home during a challenging remodeling project. Drop-in tile ceilings can be installed in a room with exposed ceiling joists, older homes where the framing has settled over the time and everything seems to be out of level, and are perfect for finishing a basement where many of the mechanicals are below the ceiling framing. They can be installed at any height and are supported by wires that can be adjusted so that the ceiling is level regardless of what happens to be hidden above.
Drop-in Decorative Ceiling Tile Options
Decorative Ceiling Tiles Inc. offers drop-in tiles to fit any application, room décor, and budget. Consider these material options when choosing your tiles:
Tin plated steel – if your goal is to give a room the appearance of having been created during a time when old-world quality craftsmanship was important, consider these timeless classics. Tin drop-in ceiling tiles are available in over 100 patterns to fit just about any interior design and only need to be painted prior to installation. The tiles are very budget friendly and easy to work with whether being installed by a DIYer or professional contractor.
Aluminum – if painting isn't your strong suit, consider prefinished aluminum drop-in ceiling tiles. They're available in as many patterns as the tin tiles, but have numerous color options that eliminate the need for having to paint. Don't feel that you'll be limited in your choices as there are almost more colors to choose from than in a giant box of crayons.
Faux-tin – while tin and aluminum tiles are easy to work with, if you're a DIYer, faux-tin drop-in tiles might be your best choice. The tiles look just like metal, but are made from tough, durable PVC that's lightweight and can be cut with scissors. The tiles don't have the echoing effect that some metal tiles can and they also feature a Class "A" fire rating. They're available in over 30 patterns, numerous colors, and best of all – are very affordable.
Copper – for some people only the best will do and if you fall into that category, consider solid copper or aged copper drop-in ceiling tiles. They're a little more expensive than tin, aluminum, and faux-tin tiles, but offer an appearance that's sure to stop anyone in their tracks.
Drop-in Ceiling Tile Accessories
Decorative Ceiling Tiles offers all the accessories that you or your contractor might need to covert standard ceiling grid that's available at most home improvement stores into grid that matches your metal drop-in ceiling tiles. The sleeves and cuffs are easily applied and can be purchased in 80 finishes.
Styles for any Décor
Whether you choose tin, aluminum, faux-tin, or copper drop-in ceiling tiles for your home, there are styles and finishes that can complement any interior design you may have in mind. Patterns range from colonial to modern and just about anything you can imagine in-between. If you're having difficulty making up your mind, consider ordering samples that might make the decision process a little easier.
While many people choose drop-in ceiling tiles for their homes, they can also be used for restaurants, pubs, retail locations, professional offices, or any establishment that might benefit from having an attractive ceiling. Decorative Ceiling Tiles offers drop-in tiles specifically designed for commercial use.
Help with Installation
Drop-in ceilings can be a little more difficult to install than glue or nail-up applications, but they are still well within the capabilities of most DIYers. Decorative Ceiling Tiles provides step-by-step instructions and informative videos on this site to help you with your project. Topics covered include how to plan your ceiling, grid layout and installation, and what to do about an odd shaped room. Even if you plan to hire a contractor to install your drop-in ceiling tiles, they may find the tips helpful before getting started.
Faux Tin Drop In Ceiling Tiles Installation

09 50 00 - Ceilings
09 54 00 - Specialty Ceilings
09 56 00 - Textured Ceilings
09 57 00 - Special Function Ceilings
09 94 00 - Decorative Finishing