Delta Faucet Company Launches First Showroom in Abu Dhabi
Delta Faucet Company, a leader in sustainable and innovative water solutions for residential and commercial buildings, is continuing to expand on its partnership with UAE building and construction group, Mac Al Gurg, with the opening of a state-of-the-art showroom in Abu Dhabi. The event was attended by dignitaries, architects, designers and developers along with executives from Mac Al Gurg and Delta Faucet Company, including the newly appointed vice president, international, Ken Roberts.

Keeping up with the pace of growth in the UAE, Delta Faucet has shown tremendous success, which can be seen in a triple digit year-on-year growth rate since it was established in the region in 2011. The company's two-year partnership with Mac Al Gurg has seen much success with the opening of a flagship regional store in Dubai in November last year and is now followed by the launch of a state-of-the-art showroom in Abu Dhabi. The partnership has also secured key projects in Abu Dhabi, including the five-star Women's Hospital Danat Al Emarat and the Abu Dhabi Future School, along with other projects in the pipeline.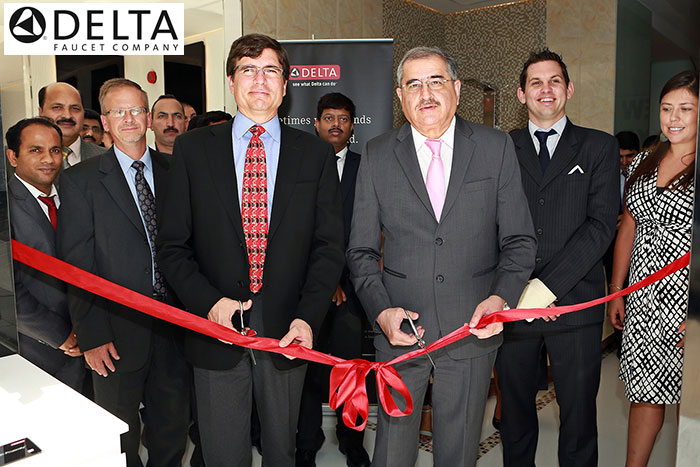 Jay Burnett - Delta Faucet Company, Ken Roberts - Delta Faucet Company, Raj Paryani - Mac Al Gurg, Ross Jackson - Delta Faucet Company.
"We've been growing very fast in the Middle East. It was only three years ago that we established a regional office in Dubai, and we have experienced exponential growth each year. With the upcoming Expo 2020, there is great potential for Delta Faucet to get involved in the region's hotel expansion plans which saw 20 hotels open since last year and 20,000-30,000 more hotel rooms to be added by the end of 2016. From a global perspective we see the Middle East as a key growth market and are committed to offering water solutions to residential and commercial buildings in the area," said Ken Roberts, vice president, international, Delta Faucet Company.

In line with Abu Dhabi Vision 2030 to build a more sustainable future, Delta Faucet Company is a pioneer in the advancement of performance standards for water-saving products and has developed several groundbreaking technologies to help promote water conservation. These technologies have helped Delta products become a part of the Estidama Villa Product Database (EVPD) which is compliant with the Pearl Villa Rating System (PVRS) requirements. Estidama is the sustainability initiative of the emirate of Abu Dhabi and the Pearl Rating System is a key component of Estidama that deals specifically with the builder environment and its performance in relation to economic, environmental, cultural and social standards.

"We are confident that our continued association with Mac Al Gurg will help us achieve our goal of becoming market leaders in the UAE kitchen and bathroom sphere. Dubai's hosting of the Expo 2020 has helped introduce the sheer number of upcoming development projects in the pipeline. We are excited to expand operations and take part in an exciting era of the region's development," said Ross Jackson, general manager for GCC and North Africa, Delta Faucet Company.

Delta Faucet's presence continues to grow within the region and it is now featured in projects including the C19 Residential tower, the Abu Dhabi Courthouse, the Imperial Residence, the Rolex Towers (twin towers), the Casa Community and a number of private villas around the UAE. The company is committed to providing smarter ways for people to experience water, and continues to develop new and innovative solutions that are sustainable, while also enhancing the user experience.

"We have worked closely with Delta Faucet Company to offer our clients a wide variety of residential and commercial faucets and are delighted to be part of Delta Faucet's first showroom launch in Abu Dhabi. As an established brand within the UAE, we at Mac Al Gurg believe that there is a gap in the market, which Delta Faucet Company's innovative solutions can help fill," said Raj Paryani, General Manager, Mac Al Gurg.

Categories: