About Brizo - Jason Wu Single Hole Electronic Lavatory
Brizo - Jason Wu Single Hole Electronic Lavatory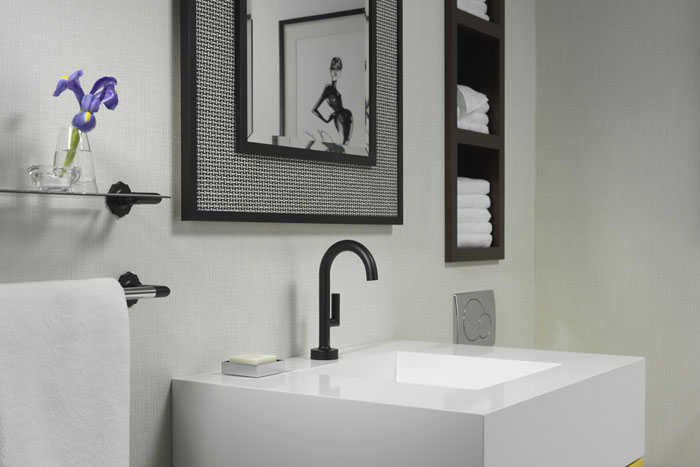 Product No: 65675LF-BL

In November 2011, fashion for the runway and home collided when the highly anticipated Jason Wu for BrizoTM powder room collection debuted. The Brizo® brand and Jason Wu have since expanded the collection, giving homeowners the option to outfit their entire bathroom with pieces from the Jason Wu for Brizo full bath suite.

"The powder room collection launch was the first step in this exciting collaboration with Jason," said Judd Lord, Brizo director of industrial design. "The full bath collection provides homeowners with the ability to further integrate fashion into the home with a suite of coordinating products for the master bathroom."

The Jason Wu for Brizo collection strikes a delicate balance between sleek Scandinavian inspiration and Baroque detailing. The juxtaposition of ultra-modern clean lines and ornamentation marks the fusion of design styles from Jason Wu and the Brizo brand. For homeowners, the end result is a sophisticated and inspired collection that now includes a variety of faucet configurations, including a single-handle electronic lavatory and vessel lavatory, widespread lavatory and wall-mount lavatory, 3 and 4 hole Roman tubs, bidet and shower fixtures for the entire bathroom. The faucets and shower trims in this full bathroom suite share the same architecture as the Odin™ bath collection, but are available exclusively in the Jason Wu for Brizo signature Matte Black finish.

The single-handle electronic faucet is built on a proprietary platform that replaces the traditional manual valve with an electronic version placed below the deck. In addition to the unique design and unexpected rotating handle motion, this new valve system enables a number of cutting edge technologies:

SmartTouchPlus™ Technology - The next generation of the Brizo brand's revolutionary SmartTouch technology, SmartTouchPlus technology adds hand-free sensing to existing touch-sensitive operation. An LED light lets users know if they are in Touch Mode (solid color) or Hands-Free Mode (flashing).


TempIQ™ Temperature Control Technology - TempIQ technology senses the water before the user does. An LED light built into the faucet changes color from blue to magenta to red, letting consumers know exactly when water has reached the desired temperature. It adjusts the water mixture to ensure a consistent water temperature with no sudden (and unwelcome) increases or decreases. It also features a high-temperature limit stop offering an added degree of safety in the bath.
About the Jason Wu for Brizo™ Bath Collection:
Full collection of bath products with coordinating accessories
A variety of electronic lavatory faucets
1. Single-handle, single-hole Jason Wu for Brizo Odin X electronic lavatory faucet featuring optional SmartTouchPlus Technology

2. Single-handle, single-hole electronic lavatory faucet featuring SmartTouchPlus and TempIQ™ Technologies

3. Single-handle, single-hole electronic vessel lavatory featuring SmartTouchPlus and TempIQ Technologies

4. Widespread lavatory faucet

5. Wall-mount lavatory faucet

6. 3 and 4 hole Roman tubs

7. Bidet


Medium flow and Sensori® high flow custom shower trims
H2Okinetic handshower at 2.0 gallons per minute (gpm)
2.0 gpm H2Okinetic showerhead
18" towel bar
Tissue holder
Towel ring
Soap dish
Freestanding soap pump
Wall-mount shelf
Drawer pull and knob
Wastebasket
H2Okinetic™ Showers
H2Okinetic showers look different because they are different. The science behind H2Okinetic Technology creates a shower experience like no other. Each H2Okinetic showerhead and handshower contains an internal system that sculpts the water into a unique wave pattern, creating a consumer-proven feeling of more water, all without using more water.
WaterSense® Labeled
As part of Delta Faucet Company, the Brizo brand team takes its role as a WaterSense® partner very seriously and is committed to working with the U.S. Environmental Protection Agency (EPA) to encourage efficient use of water resources and actively protect the future of our nation's water supply.


Upon its launch, all lavatory faucets in this collection will meet the WaterSense requirements, flowing at a rate that is less than the industry standard of 2.2 gallons per minute (gpm).


The WaterSense labeled lavatories of the Jason Wu for Brizo collection will provide up to 32 percent water savings , while the 2.0 gpm WaterSense labeled showerheads provide up to 20 percent water savings , all without sacrificing the comfort and convenience of the user experience or the durability and life span of the product.
Finishes
All faucets and shower trims are available in the signature Matte Black finish of the Jason Wu for Brizo collection. Accessories are offered with either cool Polished Chrome or soft Brilliance® Brushed Nickel accents on select items.

22 40 00 - Plumbing Fixtures
22 41 00 - Commercial Plumbing Fixtures
22 41 00 - Residential Plumbing Fixtures