Design International at MIPIM 2018
How and where people live is changing beyond all recognition. By 2050, it is projected that nearly 70% of the global population will live in urban areas, and 90% of that rapid urbanisation is anticipated to take place in developing countries. Faced with this, creating urban places that are sustainable and support communities effectively is one of the most important development challenges of the 21st century.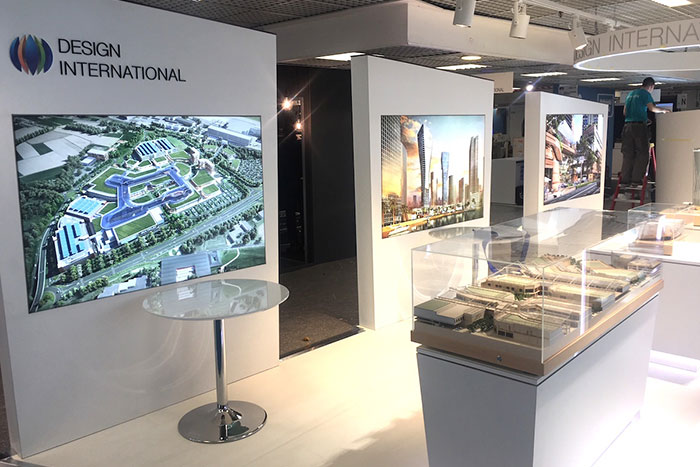 Design International has been successfully creating places for communities for over 50 years and visitors to MIPIM had an opportunity to view examples of the practice's recent work.
At MIPIM this year, the Design International team shared insights gathered over many decades on the factors that shape successful community places, from innovative design to the economics of developments.

From the UAE, Design International presented a range of projects including the retail and leisure destinations of Avenues Mall, Sharjah and Silicon Oasis, Dubai, both of which are currently under construction and due to open in 2019 and 2020 respectively. Also on display was Reem Twin Towers in Abu Dhabi, a mixed-use development that integrates retail with organic forms and dynamic living spaces, providing a refined modern masterplan for the community.

Other exemplary projects showcased by the practice were the striking model for a new, innovative mixed-use development in Izmir, Turkey which attracted a very great deal of attention during the show; Maximall Pompeii, the new retail resort that is a key landmark in the major redevelopment programme for this historic Italian city, widely considered one of the most important archaeological destinations in the world and Caselle Open Mall, the new urban icon of Turin. Unique in Italy, this innovative development, which provides a special blend of cultural visitor attraction with commercial and public space, will be the catalyst for economic growth for years to come.

Recently, Design International reaffirmed its commitment to the region and design industry by opening an office at the Dubai Design District d3 in the presence of Diplomats, developers, media and clients.