Design Talks Seminar Series
The Design Talk seminar series at INDEX and workspace at INDEX is a favourite feature for visitors of the show – and 2016 is shaping up to be the best series yet!

With a comprehensive range of panel discussions, presentations and workshops focusing on business, design and trends, the Design Talks sessions offer excellent knowledge sharing, bringing international and regional experts together to chat all things design.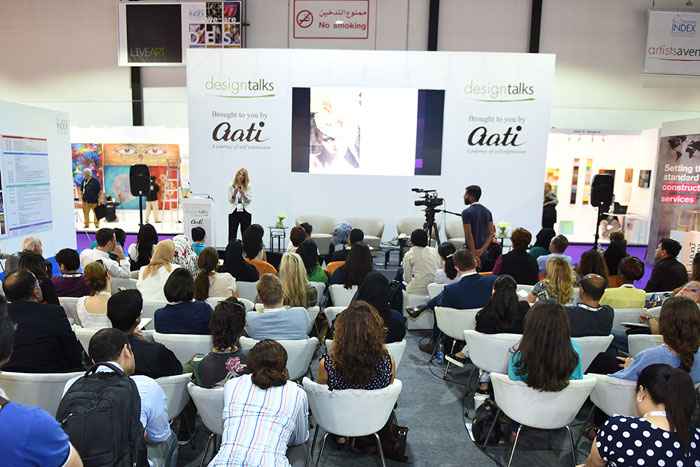 Eagerly anticipated this year is the 'Sensual Minimalism' presentation from award winning designer Karim Rashid, who will be delivering a thought-provoking look at the challenges and opportunities of innovative design. Read about this in the next article that will be featured on AEC Online!

In addition to Karim's keynote talk (taking place at 2pm on Monday 23 May), highlights in DesignTalks 2016 schedule include:

Acoustic vs. Aesthetics: What you need to know
2017 Design & Colour Trends for Interiors by Scarlet Opus
Define and Conquer
Panel: The Future of Design and Technological Innovation in F&B Design
Social Media as Business Tool for the Design Community
Click here for the full INDEX Design Talks Schedule
Click here for the workspace at INDEX Design Talks, brought to you by OFIS Schedule
Providing a fresh new take on the ever-evolving design and architecture industry, this year will see industry specialists touch base on topics that vary from design culture to overcoming the challenges of innovation, giving industry enthusiasts' invaluable information.
workspace at INDEX Design Talks – brought to you by OFIS – provides invaluable educational content to the region's architecture, interior design, retail, and hospitality communities. Some of the key sessions include 'The Science Behind Making Employees Happy in the Workplace' with Oliver Baxter, Insight Programme Manager, Herman Miller; 'Interior Design Products Inspiration' with Dr. Iman Ibrahaim, Associate Professor, University of Sharjah; as well as a new addition – Retail Design Day @ Design Talks – a dedicated day to retail, with topics such as 'Engaging Customers through Design' with Michel Vandamme, Head of Design and Development, Home Centre.
The sessions are free to attend for visitors (apart from Karim Rashid's session – though it's definitely not-to-be-missed!)
Register TODAY for the INDEX 2016 exhibition
Register TODAY for the workspace at INDEX 2016 exhibition
With trends and innovation coming from every angle, INDEX and workspace at INDEX can't wait to be immersed in all things design, the countdown is on!