DEWA launches smart initiatives in preparation for Expo 2020 in Dubai
Dubai Electricity & Water Authority (DEWA) has launched a number of smart initiatives that confirm its readiness to achieve the Smart Dubai initiative announced by HH Sheikh Mohammed bin Rashid Al Maktoum, Vice President and Prime Minister of the UAE and Ruler of Dubai, to transform Dubai to the smartest city in the world over the next three years through 100 initiatives and 1,000 smart services to enhance the quality of life in Dubai. DEWA's efforts integrate with those of other government organisations in the areas of transport, communications, infrastructure, economic services, and urban planning.

The Smart Dubai initiative's plan is based on 6 main sectors that focus on achieving smarter economy, smarter lifestyle, smarter transportation system, smarter governance, smarter environment and smarter generations within 3 main themes, namely: communication, integration and cooperation. The initiative aims at creating a new reality and contributes to achieving a qualitative shift in the services offered to partners and customers. The city's services and facilities will be managed through interconnected smart systems to enhance the quality of life for Dubai's residents and visitors.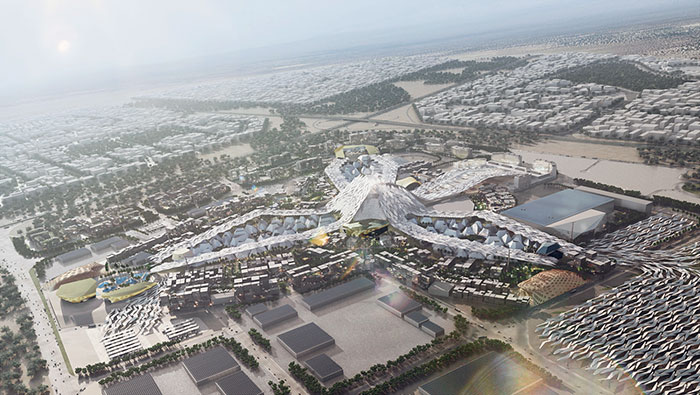 DEWA is currently upgrading the efficiency and capacity of the infrastructure to generate, transmit and distribute electricity and water to secure the needs of customers, developer and other business categories in light of the ongoing increase in demand on electricity and water, and to meet all the requirements of Expo 2020 in Dubai. DEWA has outlined plans for the next ten years to raise its production capacity. It annually upgrade its transmission and distribution grids and their supplements based on current and expected demands. Data is drawn from the Government's comprehensive development plans, as well as details of projects by developers and development plans of the business sector.

"In support of the wise vision of HH Sheikh Mohammed bin Rashid Al Maktoum, we have laid out a clear strategy to support Dubai's efforts in hosting Expo 2020. Our plans and preparations include launching smart and pioneering initiatives that create opportunities to support sustainability as a main theme on Expo's agenda. We will focus on diversifying the energy and water resources on the long run, with special focus on smart services and systems. The strategy is in line with the Expo theme of 'Connecting Minds, Creating the Future' and the three subthemes of Sustainability, Opportunity, and Mobility. We are committed to the promise of HH Sheikh Mohammed bin Rashid to host the best Expo the world has ever seen. Our smart projects and initiatives will help in improving the quality of life in the coming years. We will be able to provide the best to our Expo guests including smart services and utilities at the highest international standards to help achieve the Emirate's objectives to create a better future for its citizens and residents," said HE Saeed Mohammed Al Tayer, MD & CEO of DEWA.

"We seek to achieve that by focusing our efforts on setting up an excellent energy infrastructure that meets the Emirate's development needs, reflecting our vision of providing state-of-the-art, world-class services. Expo 2020 in Dubai will be a unique opportunity for us to show the world our excellence in the public utilities and infrastructure sectors. DEWA contributes to promoting Dubai's infrastructure and public facilities in line with the UAE Vision 2021 and according to the highest international standards to meet the essential needs of residents and businesses, to help make our country a leading international economic hub," added Al Tayer.

In preparation for hosting Expo 2020 in Dubai, DEWA has launched new initiatives that are aligned in their content and objectives with the sustainable development directions in Dubai. These initiatives include the following:

First Initiative: Connecting Solar Energy to Houses and Buildings

The initiative encourages households and building owners to install photovoltaic solar panels to generate electricity, which can be consumed within the premises with the surplus to be exported to DEWA's grid. This encourages the use of renewable energy and increase its share in the energy mix.

Second Initiative: Smart Applications through Smart Meters and Grids

By introducing smart meters and applications, DEWA will provide various benefits and new applications to its customers, including fast service connectivity, quick response through instant re-connectivity of electricity, and rationalising consumption by using smart meters to achieve happiness of citizens and residents and support sustainability of resources. The benefits of smart meters include providing automatic and detailed readings for consumers to monitor actual consumption for a specific period of time to better understand and manage their bills. Smart meters help identify energy efficiency solutions. They send readings automatically using advanced communication media such as fibre optic cables and storing the entire history of all consumption indicators and customer-related operations.
Additionally, smart meters will support renewable sources of energy in residential, commercial, and industrial sectors by comparing supplies from consumption and generation sides. DEWA has installed 70,000 smart meters so far. 200,000 meters will be installed in the first phase.

Third Initiative: Infrastructure and Electric Vehicles Charging Stations

This project includes establishing advanced infrastructure and electric-vehicle charging stations. DEWA supports the introduction of electric vehicles in order to decrease air pollution and protect the environment against the impact caused by transport sectors in the Emirate. DEWA endeavours include establishing the required infrastructure in collaboration with several stakeholders, including car manufacturers, airports, Dubai Municipality, shopping malls, petrol stations, Road and Transport Authority (RTA), hotels, car parks, etc. 100 charging stations will be installed in various areas of Dubai, like malls, airports, commercial buildings, residential complexes, and petrol stations. This stage is expected to be completed after one year of the date of commencement, in coordination with Dubai Municipality and other stakeholders.

DEWA is currently working on enhancing the energy and water infrastructure of Dubai, with a core focus on sustainability and rational consumption of natural resources. DEWA also strives to promote alternate energy solutions and build a smart infrastructure and systems to support Dubai's efforts in its preparations to host Expo 2020 to be the best in the history of the exhibition.