DEWA organises Sustainable Office interactive workshop to promote efficient use of energy and water
Dubai Electricity and Water Authority (DEWA) has organised the first Sustainable Office workshop, which is an interactive workshop on efficient use of energy and water. The workshop, organised in collaboration with Emirates Wildlife Society - Worldwide Fund for Nature (EWS-WWF), was held at DEWA's Sustainable Building in Al Quoz. Organising the workshop supports DEWA's vision to become a sustainable world-class utility, and its efforts to raise awareness on global warming and climate change.

A large number of DEWA's stakeholders, partners, engineers, developers, as well as other utilities in the region attended the workshop, which highlighted international best practices and strategies on reducing consumption of natural resources and how to limit carbon emissions.

The workshop built upon the success of the one DEWA organised for its strategic partners and stakeholders last year. Participants shared experiences and ideas on global trends in sustainability and its current and future challenges.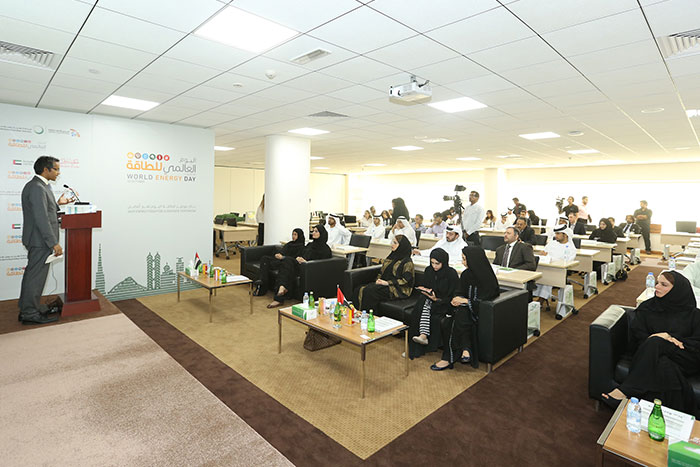 "In line with the directives of His Highness Sheikh Mohammed bin Rashid Al Maktoum, Vice President and Prime Minister of the UAE and Ruler of Dubai, to adopt the concept of sustainable development, rationalise energy consumption, and enhance the effectiveness and efficiency of renewable and alternative energy in Dubai and the UAE, DEWA works with leading local and regional organisations to highlight World Energy Day, which is an important occasion on which to raise awareness about the need to conserve energy and use it wisely," said HE Saeed Mohammed Al Tayer, Vice-Chairman of the Dubai Supreme Council of Energy(DSCE) MD & CEO of DEWA.

"Through today's workshop, we aim to develop future steps and goals to improve the effectiveness and efficiency of energy and water in the region, and develop a roadmap that will be the cornerstone in promoting sustainable development and protecting natural resources. The workshop covers a number of topics such as sustainability, rational consumption, climate change, reducing carbon emissions, environmental protection, and other topics that form the basis of World Energy Day," added Al Tayer.

DEWA collaborated with EWS, an environmental organisation that works in association with WWF, to give presentations and hold discussion sessions on environmental issues, including climate change and sustainability in the workplace. The workshop also included the Sustainable Office board game, which is an interactive team activity that helped participants to build measurable strategies for effective energy and water efficiency.

"We are glad to collaborate with DEWA and the Supreme Council of Energy in organising this event, which highlights the issues related to the extensive use of energy and water. It proves that there are effective and economic solutions to this issue. We are pleased to work together to overcome the obstacles that face sustainable development in the region by raising awareness of regional organisations and companies, and by exchanging international best practices in this area," said Ida Tillisch, Director General, EWS - WWF.

"The UAE's carbon footprint is very high compared to many countries around the world. One of the most important measures to reduce the footprint is to combat the high use of energy and water. However, the UAE's leadership is determined to change that reality by launching initiatives and strategies that are built around sustainability, such as the target to reduce energy consumption by 30%, which was set by Dubai's Supreme Council of Energy, and the steps Dubai has taken to improve energy efficiency. We hope to see more such initiatives that will help in building the sustainable future of the UAE," added Tillisch.

During the workshop, there were a number of interactive activities. EWS-WWF organised the Sustainable Office board game where teams decided on retrofits and then calculated new consumption. The activity raised awareness about the best practices to reduce energy consumption at offices and places of work. A large number of staff from participating organisations took part in the activity.

At the end of the event, teams and organisations presented their suggested strategies and anticipated results. DEWA and EWS-WWF presented participants with certificates to recognise their successful completion of the workshop.

DEWA and DSCE cooperate with EWS-WWF on several activities and programmes such as Earth Hour, to unify efforts and shed more light on DEWA's environmental and social initiatives that support the Dubai Integrated Energy Strategy 2030.