DEWA participates in UAE - UK Energy Group Workshop at World Future Energy Summit
Dubai Electricity and Water Authority (DEWA) has today participated in the UAE–UK Energy Group workshop, organised by Masdar at the Abu Dhabi National Exhibition Centre (ADNEC) during the World Future Energy Summit (WFES). The workshop was held under the patronage and presence of HE Suhail Al Mazrouei, Minister of Energy of the UAE. Government and industry experts, specialists and academics took part in the workshop. Participants were carefully selected to represent a spectrum of key stakeholders.

HE Saeed Mohammed Al Tayer, MD & CEO of DEWA chaired a session on smart cities at the workshop. The other two sessions focused on building efficiency and energy efficiency. A part of WFES, the workshop promoted dialogue and raised awareness about global environmental and economic challenges. The Abu Dhabi Sustainability week is hosted by Masdar.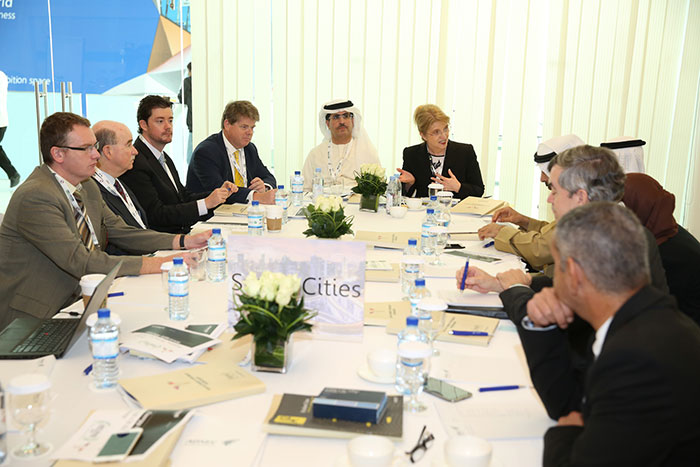 "In line with the Green Economy for Sustainable Development initiative, which was launched by HH Sheikh Mohammed bin Rashid Al Maktoum, Vice President and Prime Minister of the UAE and Ruler of Dubai, which sets the road map towards excellence, sustainability and the achievement of best results, we work to achieve the Dubai Plan 2021, which aims to achieve a happy society that fulfils the aspirations of Emiratis and residents in Dubai," said Al Tayer.

"I am pleased to extend my gratitude to Masdar, Abu Dhabi's renewable energy initiative, and the UAE-UK Energy Group for organising this workshop, to exchange experiences and expertise and take part in open discussions on for solutions and strategies that promote sustainable development," added Al Tayer.

"In the beginning of 2014, HH Sheikh Mohammed bin Rashid Al Maktoum, Vice President and Prime Minister of the UAE and Ruler of Dubai, called all government organisations to transform Dubai into a smart city within three years, and improve the lives of citizens and residents. In line with the vision of His Highess, DEWA has developed the smart grid strategy, which is an important step towards achieving the smart city. DEWA has developed plans and programmes for demand shift and reduction, energy efficiency and operational improvement. Under the smart grid strategy, DEWA will focus on different programmes in the short, medium and long term including advanced metering infrastructure, asset management, demand side management, distribution automation, information technology infrastructure, substation automation, system integration, telecommunications, and efficiency, reliability, and availability of energy supplies," added Al Tayer.

"DEWA has launched three smart initiatives to support the Smart Dubai initiative to make Dubai the smartest city in the world. The First Initiative is connecting solar energy to houses and buildings to encourage households and building owners to install photovoltaic (PV) solar panels to generate electricity. The PV solar system will be connected to DEWA's Grid. Electricity produced will be used within the premises and the surplus exported to the network. This encourages the use of renewable energy and increases its share in the energy mix in line with the Green Economy for Sustainable Development initiative and the National Agenda of His Highness Sheikh Mohammed bin Rashid Al Maktoum, Vice President and Prime Minister of the UAE and Ruler of Dubai," said Al Tayer.

Through the second initiative, DEWA will install smart applications through smart meters and grids to provide various benefits and new applications to its customers, including automatic and detailed readings (both current and historical). The data obtained through these readings will be available to customers to monitor actual consumption for specific periods of time to better understand and manage bills. Additionally, such data will help identify energy efficiency and enable comparisons with average norms. These smart meters will support renewable sources of energy in residential, commercial and industrial sectors by comparing energy supplies from consumption and generation," said Al Tayer.

"Through the third initiative, DEWA will build the infrastructure for electrical vehicle charging stations in various areas of Dubai. This will decrease air pollution and protect the environment against the impact caused by transport sectors in the Emirate. DEWA's efforts include establishing the required roads and transport networks in collaboration with several stakeholders, including car manufacturers, airports, Dubai Municipality, malls, and petrol stations, among others," added Al Tayer.

"DEWA has achieved competitive results surpassing the private sector, and even leading European and American companies in efficiency and reliability. This is demonstrated by reducing losses in the electricity transmission and distribution networks to just 3.46%, compared to 6-7% in Europe and the US. We also reduced our water network's line losses to 9.14% compared to 15% in North America, setting another international benchmark. DEWA's results are some of the best in the world. DEWA's customer minutes lost per year is now only 5.62 minutes, significantly better than 15 minutes recorded by our counterparts in the European Union. The UAE, represented by DEWA, has been ranked first in the Middle East and North Africa and fourth globally, for the second consecutive year, in getting electricity as per the World Bank's Doing Business Report. DEWA has a 90% fuel consumption efficiency rate and its conservation campaigns contributed to electricity savings of 1,012 GW/h and saved 4.9 billion gallons of water from 2009 to 2013," concluded Al Tayer.

"DEWA works to achieve the objectives of the Dubai Integrated Energy Strategy 2030 to reduce energy demand by 30% by 2030 and increase the share of renewable energy sources. This strategy is focused on diversifying the energy mix by 2030 to include 71% from natural gas 71%, 12% from nuclear power, 12% from clean coal and 5% from solar power," continued Al Tayer.

"We launched the energy demand strategy in 2013, which includes eight major programmes. These are regulations for green building construction, Retrofitting of existing buildings, district cooling, standards and labels for Appliances and Equipment, Water Reuse and Efficient Irrigation, Outdoor Lighting, Tariff structures to support energy conservation, and Demand Response."

"Furthermore, DEWA established Etihad ESCO to retrofit around 30,000 buildings in Dubai. Etihad ESCO also examines DEWA's buildings for energy efficiency to reduce consumption, and support sustainability and energy efficiency. This project will be a model for promotion of energy efficiency performance, not only in Dubai but the entire region. Between 2006 and 2014, DEWA managed to achieve a 28.36% improvement in efficiency, mainly through improvement to the design development of co-generation plants and water, ultimately raising the level of their performance," said Al Tayer.

The UAE-UK Energy Group is part of the UAE-UK Business Council, which was established in 2011 to promote trade between the United Kingdom and the UAE. Focused on energy for oil and gas at the outset, the Group has recently expanded to cover renewable energy and energy efficiency.