DEWA selects Preferred Bidder for first phase of 1,200 MW Hassyan Clean Coal Power Plant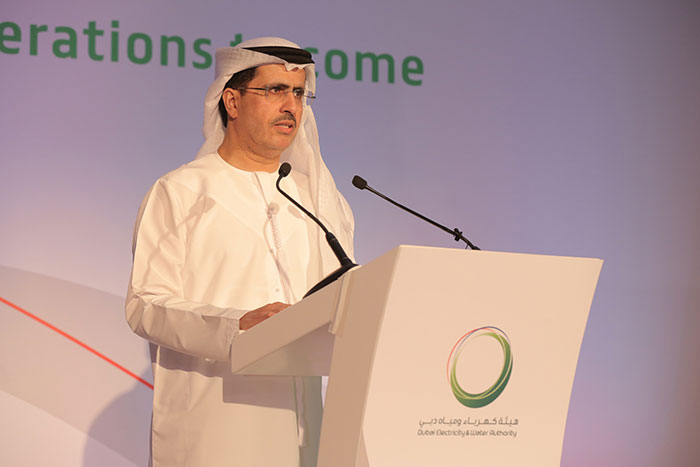 HE Saeed Mohammed Al Tayer, MD & CEO of Dubai Electricity and Water Authority (DEWA), has today announced the ACWA Power and Harbin Electric consortium as the Preferred Bidder for the first phase of the 1,200 MW Hassyan Clean Coal Power Project. The consortium bid a Levelised Cost of Electricity (LCOE) of 4.501 cents/KWh based on May 2015 coal prices.

The announcement was made at a press conference held today at Grand Hyatt hotel, Dubai. The conference was attended by HE Mohammad Abunayyan, Chairman of ACWA Power, Waleed Salman, Executive Vice President of Strategy and Business Development at DEWA, Jamal Alhammadi, VP of Special Projects at DEWA, David Lloyd – EY – Consortium Leader at DEWA's financial consultant EY, Margaret Cole from legal consultant White & Case, John Elanjickal from technical consultant Pöyry, and Executive Vice Presidents and Vice Presidents from DEWA, project's consultants, energy company representatives, and local and international media.

At the conference, Al Tayer thanked the attendants and commended the companies that sent their competitive bids for this strategic project.

"This ambitious project supports the vision and directives of His Highness Sheikh Mohammed bin Rashid Al Maktoum, Vice President and Prime Minister of the UAE and Ruler of Dubai, the roadmap that guides our ambitious initiatives and development projects. It also supports the Dubai Plan 2021 to for Dubai's environment to be clean, healthy, and sustainable. Today, DEWA is adding another initiative to diversify Dubai's energy mix and support the Dubai Integrated Energy Strategy 2030 developed by the Dubai Supreme Council of Energy to diversify Dubai's energy mix to include 71% from gas, 15% from solar power, 7% from clean coal, and 7% from nuclear power. I would like to thank all the international applicants who submitted their competitive bids to participate in this leading project. This wide international participation reflects the trust and confidence of international investors to invest in Dubai Government's major energy projects," said Al Tayer.

"To achieve DEWA's vision to become a sustainable world class utility, we are working to establish sustainability, which is a roadmap for a brighter and happier future for Dubai, by launching distinguished world-class initiatives and projects in green development. The Hassyan clean-coal power plant will use the best available technologies and the highest global standards in this field. It will use the Ultra-supercritical (USC) technology to reduce any negative impact on the environment. DEWA has requested that the project meets flue gas emission limits more stringently than emission limits in the Industrial Emissions Directive (IED) of the European Union and in the International Finance Corporation (IFC) Guidelines. All the necessary environmental studies have been carried out. The Hassyan clean coal power plant project will be implemented using the IPP model on a build, own, operate (BOO) basis and DEWA will be the major stakeholder with 51% share in the company that will be established. The project is supported by a 25-year Power Project Agreement (PPA). The bidder has been required to put in place arrangements for the assured delivery of coal to the project over the life of the agreement. The first phase of the project comprises two units of 600 MW each and will be operational by March 2020 and March 2021, respectively. DEWA is planning to launch two additional projects, to bring the total capacity to 3,600 MW," he added.

Al Tayer noted that DEWA received expressions of interest from 48 international applicants. Seven global developers were shortlisted and found to have the capabilities to deliver. DEWA received four offers from international companies and consortia that possess the necessary expertise and skills. After an intense bidding competition and a rigorous evaluation of the bids received, supervised by financial advisor Ernst and Young, technical advisor Pöyry, and legal advisor White & Case. The plant will be built by Harbin Electric and Alstom. Alstom will lead the EPC consortium and will be responsible for the overall engineering, the supply and eventual commissioning of the Power Block, and coordinating the balanced integration of all the plant's components and guarantee the power plant's performance. The plant will be operated and maintained by ACWA and Harbin in partnership with Alstom Power and US-based NRG. The coal-handling and trans-shipment facilities will be managed by Louis Dreyfus, a major European specialist company. France's EDF Trading, one of the world's largest coal traders, will manage the coal supply to the plant.

"This competitiveness and the competitive price for this project, reflects international investors' trust in Dubai and in DEWA and the transparency in all our projects, and DEWA's excellent financial position as shown by improved credit ratings by Moody's and Standard & Poor's. I would like congratulate the companies that have been selected to work with us on this leading project. They will be a part of the success story of Dubai, the Emirate whose ambitions have no limits. I would like also to thank all companies that submitted their proposals, wishing them success in future projects," concluded Al Tayer.

"DEWA and the Emirate of Dubai are to be congratulated on their vision of diversifying their energy mix set out in the Dubai Integrated Energy Strategy 2030. We acknowledge and appreciate the highly-professional approach demonstrated during the procurement process for Hassyan project, and the consortium is committed to a smooth financial close and meeting the target commissioning dates of the plant," commented HE Mohammad Abunayyan, Chairman of ACWA Power, "Dubai has been promoting the diversification of its power market with a clear focus on clean fuels. Hassyan clean coal project marks a major milestone in the pursuit of this strategy," said Guo Yu, Chairman and President of Harbin Electric International.