DEWA seminars during WETEX
Dubai Electricity and Water Authority (DEWA) will organise a number of seminars during the Water, Energy, Technology, and Environment Exhibition (WETEX 2015). The event is organised under the directives of HH Sheikh Mohammed bin Rashid Al Maktoum, Vice President and Prime Minister of the UAE and Ruler of Dubai. It will be held under the patronage of HH Sheikh Hamdan bin Rashid Al Maktoum, Deputy Ruler of Dubai, Minister of Finance, and President of DEWA, from 21-23 April at the Dubai International Convention and Exhibition Centre. The seminars, which usually generate huge interest among visitors, will feature international experts in topics such as energy, water, environment, sustainable development.

DEWA has announced that the 17th WETEX will have more seminars and discussion sessions to cater for the increasing number of interested visitors from the government and private energy organisations.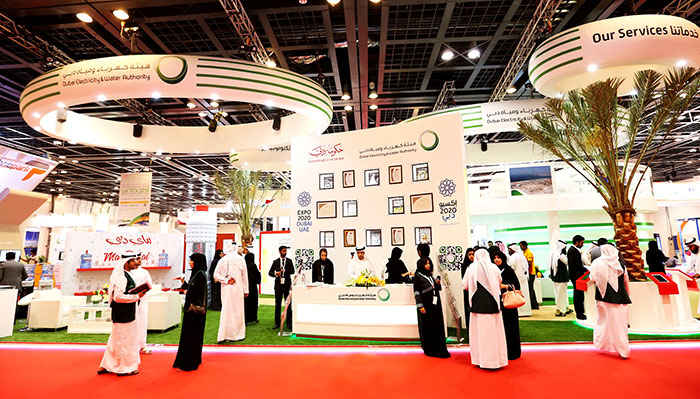 "Each year, the seminars attract a significant number of WETEX visitors. We do our best to improve the seminars and introduce new and diverse topics over these three days to highlight best international practices to develop the energy sector, in collaboration with our partners in the exhibition," said HE Saeed Mohammed Al Tayer, MD and CEO of DEWA, which is organising WETEX.

"Such seminars attract many trade visitors to WETEX. Some of the visitors come specifically to attend these seminars. They find them to be an excellent opportunity to learn about new advancements in energy, water, and environment by interacting with experts, and discussing new technologies in these areas," added Al Tayer.

WETEX 2014 attracted 23,000 visitors, compared to 15,847 in 2013. A significant number of the visitors attended the seminars and talked with experts and speakers. Currently, DEWA is finalising the agenda for this year's seminars, which will be announced shortly. It will have a comprehensive programme every day during WETEX.

WETEX and the accompanying seminars are held under the umbrella of the Green Week, which also includes a series of organisational and social events to demonstrate Dubai's commitment to environmental sustainability.

Sponsors and exhibitors of WETEX 2015 will also take part in the seminars, while showcasing the latest solutions and technologies in water, electricity, environment and sustainable energy.