DITEK Introduces DIN-Rail Surge Protectors for Commercial and Industrial Equipment
DITEK, the quality standard in commercial surge protection, announces the launch of the DTK-DR Series of DIN-rail surge protectors designed to provide point-of-use electrical surge protection for machine control panels and similar applications in commercial and industrial environments.

Every model in the family provides a 75,000 amp surge current rating to ensure powerful protection and a long service life, with additional service assurance features to support proactive operational management. All units feature a compact, modular design for easy integration within machine control panels, and fast replacement of the protection module when needed.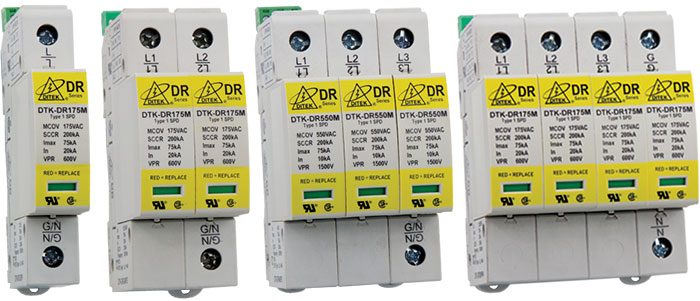 The new DTK-DR models include service assurance features that help alert maintenance and management staff of their current status and to trigger action to maintain continued protection. Each unit includes both a dry contact remote end-of-life indicator to report current status, and a visual LED end-of-life indicator for easy status checks and confirmation of remote alerts. This combination of remote and local status indication enables proactive maintenance and the highest level of machine and system protection.

"Industrial equipment forms the foundation of many business operations," said Jason Klein, National Sales Manager, DITEK. "Best practices in surge protection have always included protectors both at the facility service entry and at the power connection of each sensitive electronic device. Our new DIN-rail surge protectors make it much easier to incorporate appropriate protection right at each equipment controller."

The DR Series currently includes 18 models with different voltage configurations – from 120VAC up to 690VAC to meet project needs. Single, split, three-phase wye, and three-phase delta configurations are available to support a wide range of equipment power supplies. All models in the family are DIN-rail mountable, UL-Recognized and backed by a 5-year limited warranty.
@DITEKCorp #DITEKCorp #SurgeProtectors