DITEK Introduces Service Entrance Surge Protectors For Facility-Wide Protection
DITEK, the quality standard in commercial surge protection, announces the launch of the D200M and D300M family of Industrial Surge Protectors designed to provide protection to AC power systems in the most demanding environments. Every model in the family provides a high surge current rating to ensure a long service life, with additional service assurance features to support proactive operational management. Units are available in 5 different voltage configurations with up to 10 protection modes to meet project specification needs. These new models are all listed in MasterSpec® Construction Specifications, a product of the American Institute of Architects, for easy inclusion in new projects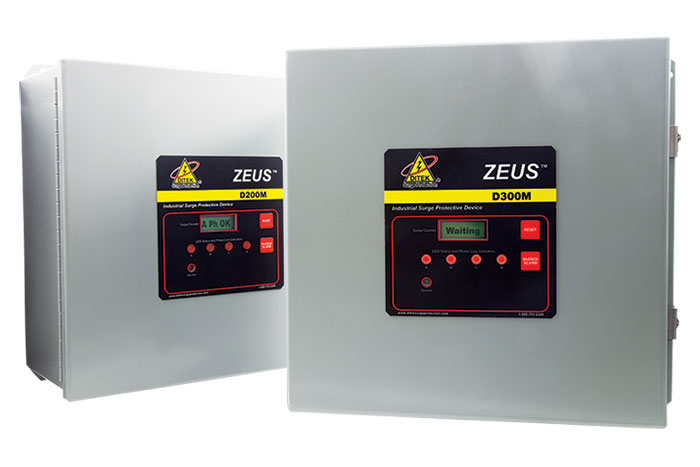 In the past, it has been difficult for facility management to be certain that surge protection devices were working properly. This is partly because most daily surge events are small and go unnoticed, and partly because surge protection devices sacrifice themselves to divert dangerous electrical surges away from sensitive equipment, thus eventually requiring them to be replaced. The problem arises when the surge protection devices have done their job correctly, but building managers don't realize that they need to be replaced. In that situation, sensitive equipment is no longer protected and is at risk of costly and disruptive damage.

The new DITEK models include service assurance features that help alert building management of their current status so that managers can take action to maintain continued protection. One of these features is an innovative visual end-of-life indicator that displays a green LED when the device has at least 2/3 of its life remaining, a yellow LED when the device life is between 1/3 and 2/3, and a red LED when less than 1/3 of its life remains. Other service assurance features include a surge counter with reset button, an audible alarm with silence button, and dry contacts for remote monitoring. With these powerful service features available, building managers can proactively manage surge protection for their facility and maintain an awareness of the current protection status.

"Every day, commercial facilities of all kinds, from offices and retail stores to medical buildings are all depending more and more on electronic systems to support their operations," said Michael Molinari, General Sales Manager, DITEK. "Facility managers are looking for ways to better support these needs with professional-grade protection. Our new industrial surge protectors provide the electrical protection they need, backed by a limited 10-year warranty, while giving them the tools to manage and assure they are protected."

This new family of surge protectors includes two series. The D200M Series has a 200,000 Amps/phase surge current rating. The D300M Series has a 300,000 Amps/phase surge current rating. Each Series has five models that cover a range of standard service voltages from 120/240VAC up to 480VAC, and are housed in rugged NEMA 4 enclosures.

@DITEKCorp #DITEKCorp #SurgeProtection