Domus to set new standard for Serviced Staff Housing
IFA Hotel Investments and Mammut Group have established Domus Staff Housing, a dedicated joint venture delivering purpose-built, serviced staff housing solutions throughout the Middle East. With the increase in both standards and demand for high quality staff and management housing, Domus is ideally placed to offer an innovative approach in the sector.

Domus derives its roots from one of history's earliest innovations in design and space efficiency. A 'Domus' was one or the earliest types of houses to include multiple rooms on different floors, with an inner courtyard. The Domus was built as a safe secure structure providing self-contained services and facilities to its occupiers.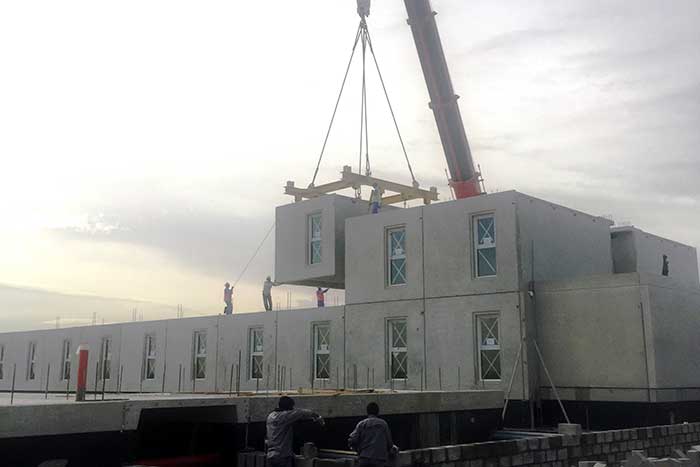 Domus Staff Housing provides dedicated furnished, serviced and managed modular staff housing solutions for the region. Using inventive interior design to ensure privacy, safety and operational ease, Domus Staff Housing provides a well-timed solution in the run up to EXPO 2020. Specifically focused on the management, hospitality and upper labour sections of the market, Domus Staff Housing delivers fully functioning staff accommodation within six (6) months.

Located in Dubai, Mammut Technocrete (MTC), is a subsidiary of the Mammut Group, and is one of the largest precast factories in the world with a capacity to produce over 2 ½ million square meters of pre-cast panels per year. The factory is currently capable of producing up to 20 modules per day, fully fitted and ready for operation and delivery to site, with expansion plans to the factory already underway. Set-up in 2005, the factory's 200,000 sqm facility is equipped with fully-automated production machinery, including a shutter robot, computerized mould plotters, welding machines, concrete distributors and curing chambers.

IFA Hotel Investments (IFA HI) forms part of IFA Hotels & Resorts (IFA HR), a worldwide leader in the development of hotel and residential resort projects. Stemming from its own staff housing requirements, IFAHI currently manages almost 2,000 staff in Dubai, and has developed a purpose built housing solution to include all soft services such as catering, transport, cleaning and facility management. Through innovative design and provision of turn-key services on site, Domus Staff Housing sets new standards in the staff housing sector.

Domus Staff Housing has been working in close collaboration with Dubai regulatory authorities to provide an enhanced roadmap for the necessary planning requirements in this sector, and is leading the initiative to incorporate these requirements into its projects.

Joe Sita, CEO of IFA HI, commented, "We are delighted to be partnering with Mammut, the recognized market leader in pre-cast modular construction. Combining Mammut's technology with our staff housing operating experience offers a powerful business solution to a much underserviced sector of the housing market."

Behzad Ferdows, CEO of Mammut Group of companies, added, "Our group is excited to enter the hospitality and enhanced labour staff accommodation segment in collaboration with IFA Hotel Investments. Our combined expertise in development, production, design and operational knowledge promises to provide, through Domus Staff Housing, a compelling offer to an underserved area of the market."