DP World partners with UAE's SirajPower to contribute to nation's green strategy
SirajPower, the UAE's leading provider of solar roof plants that offers both construction and financing solutions under one umbrella, today announced a strategic partnership with DP World, the global trade enabler. Under this partnership, SirajPower will deliver a first batch of 15 MW to DP World's facilities in Dubai located at Jebel Ali Free Zone (Jafza) and National Industries Park, with a 22-year lease agreement to help the company save its energy consumption / financially.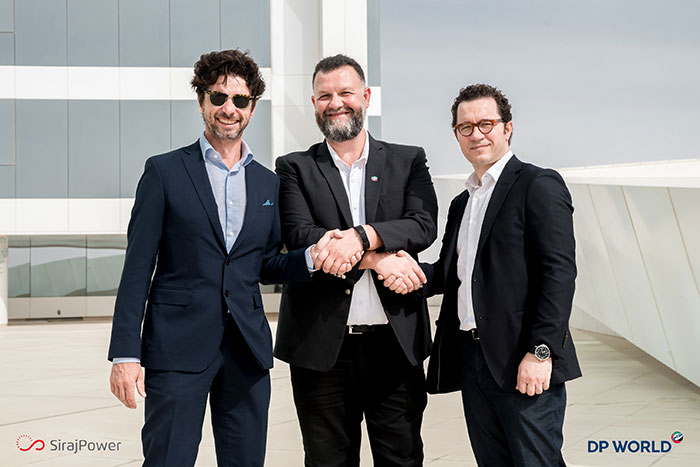 DP World is already at the forefront of renewable energy innovation and this is a key pillar for its global vision. Over the summer, the company has launched the UAE's first green storage and warehouse facilities and is set to install 88,000 PV modules across its Dubai facilities' rooftops as part of DP World's Solar Programme. SirajPower's partnership with DP World further supports its sustainable, long-term growth plan that is aligned with the United Nation's ninth Sustainable Development Goal (SDG) to build resilient infrastructure, promote sustainable industrialisation and foster innovation.

Laurent Longuet, Chief Executive Officer at SirajPower said: "It's undoubtedly an exciting time for SirajPower and the green future we are committed to creating with the help of the government whose investment in solar energy has caused the market to mature dramatically. Initiatives such as Shams Dubai have been instrumental in the development of the flourishing solar industry in Dubai and supports the long-term green vision of the country.

"Our journey to create a sustainable environment and helping the government's establishing Dubai as a smart and sustainable city has reached a peak with our new partnership with DP World. Such a deal with a major global market player clearly put us on the map and further cements our position as the leading provider of solar energy in the UAE. We witnessed a rapid growth in only three years and our plan now is to expand our offering to other emirates and countries in the GCC, as well as making a foray into the residential market to truly become the regional green champion."

Mohammed Al Muallem, Chief Executive Officer and Managing Director, DP World, UAE Region, said: "Creating a sustainable business model through the implementation of green technologies is a core focus for DP World, and one of our key initiatives is our ground-breaking Solar Power Programme that will generate enough energy to power 4,600 homes upon completion. Our partnership with SirajPower is an important step that will allow us to meet our goals, and we are pleased to work with another industry leader to help build the largest photovoltaic project in the GCC".

"The Solar Power Programme is part of DP World's larger goal to create a better future for our people and community. We recycle over 9,700 tonnes of waste each year, and have managed to reduce CO2 emissions intensity by 24 per cent since 2008. We are simultaneously developing the Jebel Ali Free Zone Zero Waste Project, with the ultimate goal to develop the world's first Zero Carbon Emission supply chain across our portfolio."

This new high-profile agreement takes place after the recent successful organization of the third Dubai Solar Show by DEWA during which it reemphasized the important role of its Dubai Shams initiative also part of Green Dubai. The objective is to encourage building owners to install photovoltaic (PV) panels on rooftops to generate electricity and connect them to DEWA's grid. While the majority of renewable energy capacity installed by 2030 is expected to emanate from the MBR solar development, Dubai is relying on the successful implementation of its ambitious Shams rooftop solar programme to meet its 75% clean energy goal by 2050.

To date, DEWA has connected its grid to 1,177 solar systems placed on the roofs of buildings in Dubai with a total capacity of 54.7 MW. For its part, SirajPower has already secured 50 MW of solar rooftop projects in Dubai as part of Shams Dubai. It is also currently the only company offering a full range of services under the same company umbrella that are related to solar net-metering since the company is licensed and DEWA-certified to offer Engineering, Procurement, Construction (EPC) solutions as well as leasing solutions. With solar leasing, clients use solar clean electricity and save money. In other words, SirajPower builds, owns, operates and maintains solar systems that help significantly reducing customer's charges through a solar lease agreement.

To execute the contract, SirajPower also announced it will open a branch in Jafza that will help supporting the construction installation and operations. In doing so, the company will not only contribute to reducing the carbon footprint of DP World but, as well, supporting the sustainable growth of Dubai. In fact, the construction activity is expected to result in significant logistics traffic with almost 80,000 PV panels to be installed, which corresponds to more than 150 containers. The same for the other various equipment: inverters, structure, cables. Moreover, the construction phase will involve a significant team effort resulting in 500,000 to 1,000,000 man-hours over a period of 18 months. The operations and maintenance (O&M) teams of more than 20 people will be employed for the O&M period - the next 22 years.

To do so, SirajPower will collaborate with local companies in Dubai and more specifically in Jafza.

SirajPower's first purpose was to address the commercial industrial market in Dubai following the strong political will and the new regulatory framework that emerged. In 2018, SirajPower has signed a series of solar distribution generation agreements with companies including Al Abbar Aluminium, Landmark Group and Apparel Group. These agreements are expected to have a snowball effect for other UAE businesses and SirajPower targets a significant market share in Dubai and in neighbouring countries.