Drees & Sommer Strengthen Facilities Management Offering in The Middle East
International construction and real estate consultancy Drees & Sommer has welcomed a team of experts from Gregory & Jones Consultants to join the company's Dubai branch, as an extension to the expertise of the existing international team. Led by industry veteran Martin Gregory, the team will have a dedicated mandate to strengthen Drees & Sommers' FM consultancy offering in the region.

Gregory, a qualified engineer with over 30 years of international facilities management experience and 20 years in the Middle East, has provided strategic FM consultancy advice for some of the region's most significant and iconic master developments, including the Palm Jumeirah, Dubai Metro, Dubai Mall, Saadiyat Island, St Regis Resort in Abu Dhabi, TRX, Kuala Lumpur and CMA Tower, Riyadh.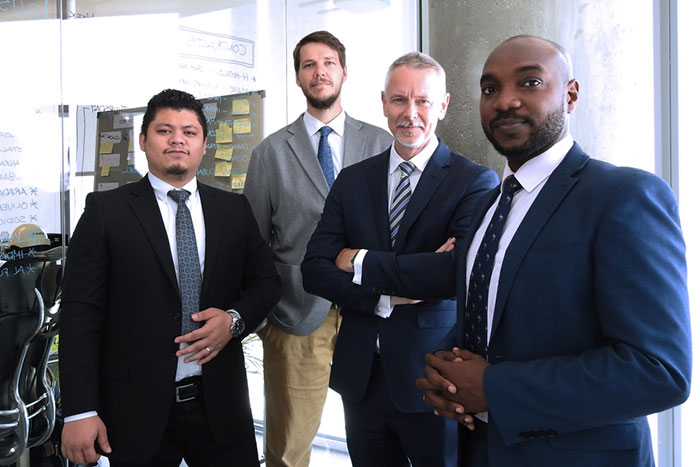 Antonio Carbonell, Cost Modeler; John-Mark Kruger, Senior Cost Modeler; Martin Gregory, International Director and Yunusa Aminu, FM Consultant
Stephan Degenhart, Associate Partner of Drees & Sommer and Managing Director of the Middle East office, said: "The expertise Martin is able to draw from and the work he has undertaken throughout the Middle East, the UK, China, Malaysia and Tanzania, will be invaluable to our offering in the region. His understanding of strata & community management structures, local authority adoption strategies and strategic & detailed cost modelling for leading mixed-use communities, will be crucial to our ongoing success.

The international FM team will provide a full spectrum of FM related consultancy services which include cost reduction programs and benchmarking, sourcing and implementation of all property-related services, FM procurement specifications, tender management and service provider audits, FM-compatible planning and construction, construction data management and BIM/GIS consulting, and sustainability and green facility management, amongst others.

"The growth and expansion of our Middle East offering through the strategic cooperation is a result of the demand from our clients in the region – they place trust in the service we provide and are accustomed to the high levels of quality we deliver at every stage of the customer journey," added Degenhart.

With vast experience in industries critical to the diversification of the region's economic offering, including tourism and hospitality, real estate and transport, Gregory has been instrumental in developing and managing a range of bespoke services including functional design review, governance and management strategies, FM procurement and bid management.

Commenting on his appointment, Gregory said: "Drees & Sommer is a company steeped in history and a market leader in Germany with best practices in consulting, planning and project management. The international FM team will be tasked with implementing these best practices with local expertise and market knowledge while also ensuring clients have full access to our Innovation Hub with research and development (R&D)."

Clients will benefit from a proprietary cost modelling tool that validates the operational and financial viability of projects and master plans, this unique added value will be offered through early engagement of interdisciplinary design and operational consultancy.

"We will also be introducing and showcasing our integrated urban solutions and cradle-to-cradle concepts which will be an integral part of the value add we offer clients," added Gregory.
Drees & Sommer provide innovative solutions to the region's real estate and hospitality sectors. Globally, the company has developed an impressive track record since it was established nearly 50 years ago and has delivered an extensive portfolio of world-class developments around the world including Dubai, Abu Dhabi, Riyadh, Jeddah as well the UK, Germany and Switzerland, amongst others.

@Drees_Sommer #Drees_Sommer