Dubai Design District Announces, 'Design 100' Competition Winners
Dubai Design District, a destination dedicated to design that reinforces Dubai's new status as a UNESCO Creative City of Design, today announced the winners of the Design 100 competition during Dubai Design Week 2018. Designer duo Sakina Kara-Sabur and Alicia Spoljar from BySOZO Interiors beat back the competition and captured the attention of the expert jury with their work The Reading Bench.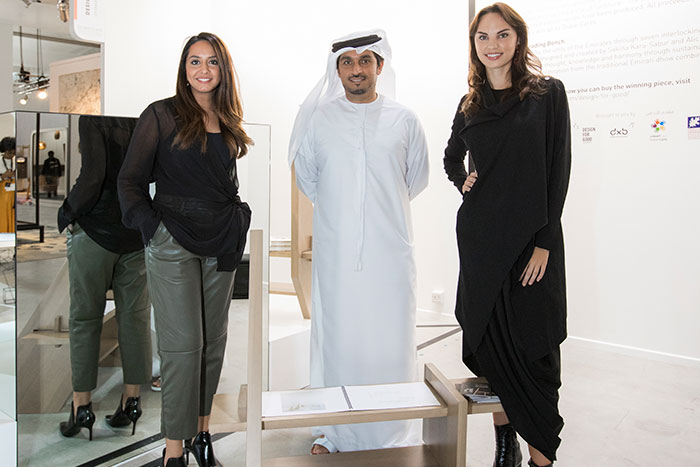 Sakina Kara-Sabur, winning designer from BySOZO - Mohammed Saeed Al Shehhi, CEO at Dubai Design District - Alicia Spoljar from BySOZO
Organised in collaboration with Dubai Cares, the UAE-based philanthropic organisation and the American Hardwood Export Council, the contest was open to all designers specialising in furniture and functional objects across the UAE. d3 produced 100 pieces of the winning work, which are available for sale to the public at AED3,000 per bench starting from Dubai Design Week, with all proceeds from the sale donated to Dubai Cares.

This year's winning functional furniture item explores the message of harmony, as promoted by the founding father of the UAE, late Sheikh Zayed bin Sultan Al Nahyan. From the side, the shape resembles a dhow with a sail and is also reminiscent of Dubai's iconic landmark Jumeirah Emirates Towers. Seamlessly blending history and modernity that is characteristic of the UAE, the piece with seven points representing the unity of the seven emirates encourages reflection and a sense of belonging.

Mohammad Saeed Al Shehhi, Chief Executive Officer of Dubai Design District, said: "Our region boasts an incredible amount of talent, and the Design 100 competition seeks to bring to life ideas that have the potential to make a significant impact on the creative ecosystem. The competition provides artists across the creative industry with an opportunity to showcase their work at the region's leading design festival and receive recognition. Through engaging local designers in this inspiring project, we aim to reinforce the importance of using design as a lens to present our rich cultural heritage."

Falling within the framework of the Design for Good initiative, the competition aspired to unite the design community through encouraging creative collaborations and promoting social change in the UAE.