Dubai Design District Co-hosts Exhibition 'The Art of Sustainable Architecture' with Foster + Partners
Dubai Design District (d3), the Middle East's destination dedicated to design, presented an exhibition titled 'The Art of Sustainable Architecture' in association with its business partner Foster + Partners, a world-renowned architectural design and engineering firm, throughout the month of February.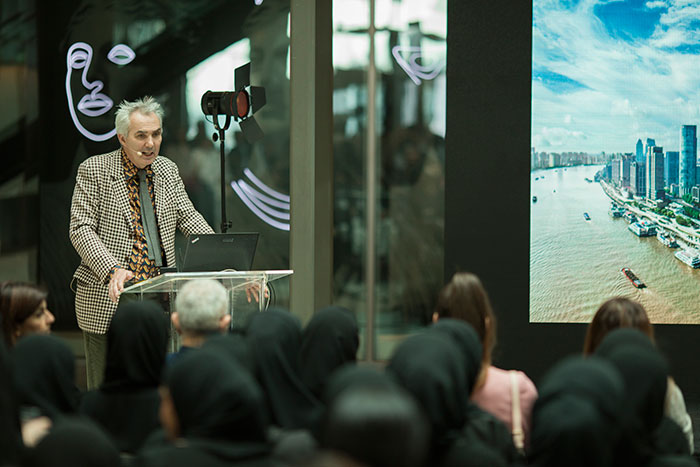 The first exhibition by Foster + Partners in the UAE offered a unique insight into its studio operations, exploring the use of different tools that have revolutionised the way designers work. Displaying models, photographs, drawings and films, the showcase highlighted the depth of research and analysis that goes into designing and building some of the most complex and innovative projects in the world.

The exhibition featured a series of weekly complementary lectures on 'Sustainable Futures' by Gerard Evenden, Head of Studio at Foster + Partners, and Dara Towhidi, Partner at Foster + Partners, that attracted hundreds of students from multiple UAE-based universities.

Khadija Al Bastaki, Executive Director of d3, said: "We are delighted to have welcomed more than 500 students to d3 over the past month to learn from Foster + Partners – a pioneer in the architectural space. The time and resources we invest in education are extremely important for ensuring the continued growth of the design industry."

Georges Kachaamy, Chair and Associate Professor of Architecture at American University in Dubai, said: "The Foster + Partners exhibition was a learning experience for the 100+ students from the department of architecture at the American University in Dubai where they had the opportunity to not only understand the significance of innovative designs and their relation with diverse contexts and cultures but also to grasp the importance of sustainable solutions that can transform the built environment into timeless masterpieces."

d3 will continue to support students and the creative community offering curated programming throughout the year including workshops, talks, exhibitions and events.

@d3Dubai @FosterPartners #SustainableArchitecture #Architecture #DubaiDesignDistrict