Dubai Design District to Present Fifth Edition of Dubai Design Week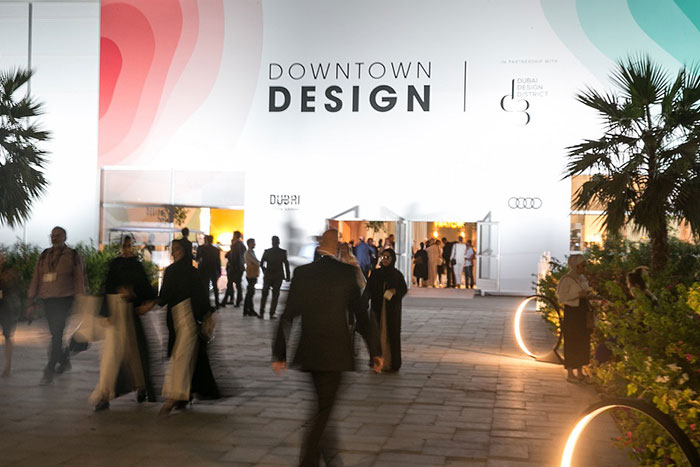 Dubai Design District (d3), the Middle East's premier creative platform dedicated to design, is gearing up to showcase the fifth edition of Dubai Design Week, the region's flagship design festival.

From 11 to 16 November 2019, Dubai Design Week will present an exciting line-up of free-to-attend talks, exhibitions and workshops across design disciplines, such as architecture, product design, interiors, multimedia and graphic design. Open to industry professionals and the public, the event will also feature art installations and pop-ups.

d3 is the destination of choice and epicentre for creative industries in the Middle East that supports the region's emerging talent, and has been the main partner of Dubai Design Week since its inception in 2015. During this time, the event has witnessed audiences grow year on year, with 75,000 visitors from the Middle East and beyond attending in 2018. The annual design showcase supports d3's role as a convener of Dubai's creative community and positions the city as a hub for design enthusiasts and professionals.

Khadija Al Bastaki, Executive Director of d3, said: "d3 has played a pivotal role in establishing Dubai Design Week as one of the largest regional design events. As the strategic partner of the festival, d3 helps aspiring designers translate their disruptive ideas into commercial success by providing an ideal platform to promote the wealth of creative talent that exists in the UAE and the wider region."

She added: "Over the years, we have brought some of the region's most renowned designers to Dubai to add vibrance and depth to the local creative community. We see this as a true mark of success and look forward to welcoming visitors new and old to Dubai Design Week 2019."

Dubai Design Week is an accessible meeting point for regional designers and creatives. The 2019 edition of the event is set to raise the bar even higher. Multiple d3 business partners, including Archiade Atelier, Armani Casa, Grimshaw, Eight Inc., Kettle Collective and MONTROI, will open their retail spaces to the public. Meanwhile, The Making Space and Re:Urban Studio will host a packed schedule of workshops and innovative installations across d3 that encourage visitors to create their own art. The destination's pop-up space, d3 Central, will transform into a hub for its designers and invite community interaction.

An exciting addition to this year's programme is MADAR – an interactive initiative that will highlight the current state of regional design and provide a platform to exchange design-related knowledge – developed by Ghassan Salameh, Guest Curator of Dubai Design Week, in collaboration with d3.

For its part, the Dubai Institute of Design and Innovation (DIDI) will hold several workshops – 'Create Your Own Bioplastic', 'Living on Mars' and 'Mixed Realities', to name a few. DIDI will also host two panel discussions focused on 'Future Design Careers' on the main stage. Experts from Eight Inc., Palmwood, EY, Accenture Interactive's Fjord, Facebook and ATÖLYE will headline the panels. In addition, DIDI and in5, Dubai's enabling platform for entrepreneurs, will present an exhibition on 'Miniaturizing Interactive Technology'. The initiative has been developed by the 2019 DIDI-in5 Residency Program that has brought together DIDI faculty and students with in5 members and startups on several projects.

@Dubaidesignweek #Dubaidesignweek @d3Dubai #d3Dubai