Dubai Parks and Resorts Makes Progress on DreamWorks' Zone at Motiongate Dubai
Dubai Parks and Resorts PJSC (DPR) today announced that vertical construction for DreamWorks' zone within motiongate™ Dubai has commenced. DreamWorks' zone has been designed as an enclosed steel-based structure built on approximately 730,000 sq ft of land within the four million sq ft motiongate™ Dubai, scheduled for opening in Q3 2016.

Work on the steel structure that boasts a total capacity of approximately 53 cubic feet has begun, leveraging around 5,400 tons of steel that have been fabricated into approximately 77 main trusses. Two 600-ton crawler cranes have been deployed to lift each truss and track into place, marking an important milestone for the development. In addition, the trusses have been pre-equipped with close to 70% of the required utilities such as sprinklers, water pipes and MEP systems.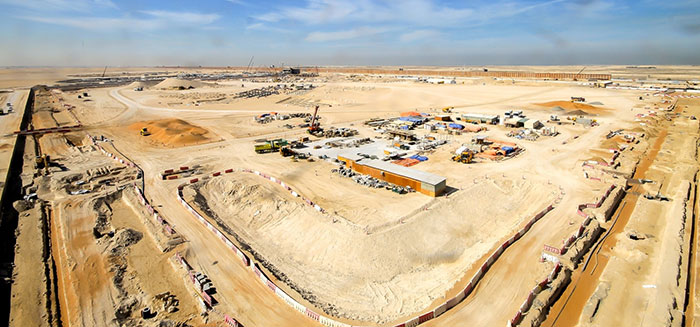 Dubai Parks and Resorts had earlier awarded the AED498 million main construction contract to Laing O' Rourke to construct, commission, test and complete the DreamWorks' zone, including the substructure, superstructure, façade and roof, Mechanical Electrical Plumbing (MEP), ride installation and fit-out works.

Commenting on the progress, Raed Al Nuaimi, CEO of Dubai Parks and Resorts, said: "We are delighted to see the different entertainment projects within Dubai Parks and Resorts taking shape as planned. motiongate™ Dubai will mesmerize audiences of all ages by adding exciting, thrilling and fully immersive experiences that are built in collaboration with some of Hollywood's most successful studios. The smooth and seamless coordination with DreamWorks Animation has resulted in significantly accelerating the pace of the entire destination.

"DreamWorks' zone will house 12 engaging attractions and new-generation rides, as well as character-themed dining and retail outlets based on popular animated feature films such as How to Train your Dragon, Shrek, Madagascar, and Kung Fu Panda. All under one roof, the zone would be large enough to fit the equivalent of eight football fields."

motiongate™ Dubai will host four zones featuring a total of 27 attractions, as well as vibrant retail, dinning, and entertainment options across all areas, spanning four million square feet.

Dubai Parks and Resorts will comprise of three theme parks: motiongate™ Dubai, Bollywood Parks™ Dubai, and LEGOLAND® Dubai. The mega leisure and entertainment destination will also feature Riverpark – a grand entrance plaza and Lapita, a family themed hotel.