Dubai's hardware and tools trade valued at AED4.59 billion in 2018 - Dubai Customs
Dubai's hardware and tools trade was valued at AED4.59 billion in 2018, with China, the USA, Italy, Saudi Arabia and Germany the Emirate's top five trading partner countries of construction-related equipment and machinery for the year.

According to figures released by the Dubai Customs today (10 June), Dubai imported AED3 billion worth of hardware and tools last year, while exports and re-exports into neighbouring countries were valued at AED1.59 billion.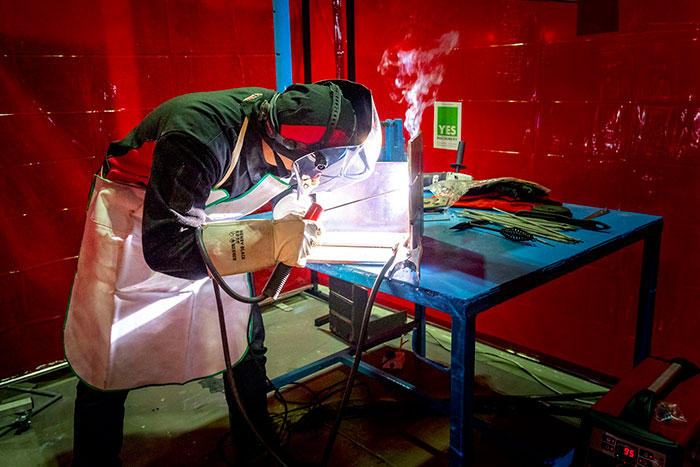 China maintains its position as Dubai's number one trading partner country for the second straight year, with hardware and tools trade between the two valued at AED790 million last year – 17 per cent of the total figure, and a four percent increase over the previous year.

The USA was next, with AED558 million worth of trade (12 percent of the total figure), followed by Italy (AED416 million), Saudi Arabia (AED360 million), and Germany (AED278 million). Together, the top five countries accounted for 52 per cent (AED2.4 billion) of all Dubai's hardware and tools trade in 2018.

The latest figures come as thousands of regional industrial infrastructure and construction sector professionals descend upon Hardware + Tools Middle East 2019, which opened today and runs until 12th June at the Dubai International Convention and Exhibition Centre. The 20th edition of the three-day event features 140 exhibitors from nine countries.

Big brands on show include the likes of Soyer and Schunk Group from Germany and Tormek from Sweden, while local representation is strong as well, with UAE companies such as ATAD, Middle East Fuji, Golden Tools, and Yes Machinery bringing to the fore some of the most well-known and trusted international brands.

Dishan Isaac, Senior Show Manager at Messe Frankfurt Middle East, the organiser of Hardware + Tools Middle East, said the exhibition is starting the course for a bold new future centred around additive manufacturing for a broad range of industries: "Hardware + Tools Middle East is the perfect platform to meet new contacts, discuss trends and technological developments, and source new products and solutions," he said.

"As is customary, we've added new highlights this year, the first of which is the Additive Manufacturing Middle East Conference, a two-day programme of insightful presentations and case-studies that demonstrate how 3D printing is transforming key industries such as construction, manufacturing, oil & gas, ship building, and automotive.

"We've also partnered with the Middle East Industrial Training Institute (MEITI) to introduce the Middle East's Best Welder competition, the first of its kind in the region that invites technical professionals in steel fabrication and welding to three days of intense competition," added Isaac.

Beginning today, the Additive Manufacturing Middle East Conference gathered the foremost thought-leaders and experts in this fast-growing technology.

Headline speakers today include Dr. Fathi Finaish, Aerospace Specialist at Mubadala; Dr. Bandar AlMangour, Researcher, SABIC, who spoke about defining additive manufacturing for Industry 4.0; and Ahmad Rajie, Senior Manager of Design, Production and Innovation, at Etihad Engineering, who spoke about AM for airlines and the aviation industry.

The conference is chaired by Dr. Bashar, Graduate Program Chair for the Department of Mechanical Engineering at the Abu Dhabi-based Khalifa University. Dr. Bashar spoke Dubai and the UAE's aims to be at the forefront of 3D printing on a global scale.

"The vision of Dubai and UAE in general is to be the hub for 3D printing in the region or even globally by 2030," said Dr. Bashar. "The Dubai Municipality regulations dictate that by 2025, 25 percent of Dubai buildings should be 3D printed. This shows how seriously they are taking this topic.
It's a very ambitious vision, but Dubai and the UAE has always taught us that nothing is impossible here."

Dr. Bashar added 3D printing has changed the rules of design: "It has revolutionised the basic ability of designers, where they can focus on the functionality rather than following the traditional way of designing any product," he said. "A key high point in 3D printing is waste reduction compared to subtractive manufacturing where you are machining and removing materials and there's a lot of waste.

"However, the low point is the cost of the material at this time. But at some point, the two curves will meet and we'll have optimal cost of raw materials for 3D printing, especially for the metallic printing materials. When that happens, we'll have a feasible manufacturing operation."

Another speaker at the Additive Manufacturing Middle East Conference is Jaspreet Sidhu, Business Manager for Jumbo Electronics, who will deliver a presentation tomorrow (11th June) about additive manufacturing challenges and solutions. Known for its Middle East consumer electronics retail business, Jumbo Electronics has also developed an enterprise division that provides 3D manufacturing solutions for B2B clients.

"We cater to the B2B service segment, so with additive manufacturing, we're moving forward in growing into a B2B business and offering innovative solutions," said Sidhu on the side-lines of the Additive Manufacturing Middle East Conference.

"We've convinced clients to manufacture at Jumbo 3D Manufacturing and we're also supporting our Jumbo service division for spare parts requirement while integrating 3D Printing in the B2C business for Jumbo Retail.

"Our plans will be pivoted based on the market response but the direction we're looking at is to increase adoption for polymer printing in the region. We're also looking forward to catering to other market demands like metal 3D manufacturing, concrete printing and offering 3D educational courses," added Sidhu.

@hardwaretoolsme #hardwaretoolsme