Dubai South unveils details of Mohammed bin Rashid Aerospace Hub and EZDubai
His Highness Sheikh Mohammed bin Rashid Al Maktoum, Vice President and Prime Minister of the UAE and Ruler of Dubai witnessed on Monday (January 28, 2019) the unveiling of the Mohammed bin Rashid Aerospace Hub and the new e-commerce zone within Dubai South's Logistics District, the EZDubai. These latest developments demonstrate the pace of growth within Dubai's 145-square-kilometre flagship urban project.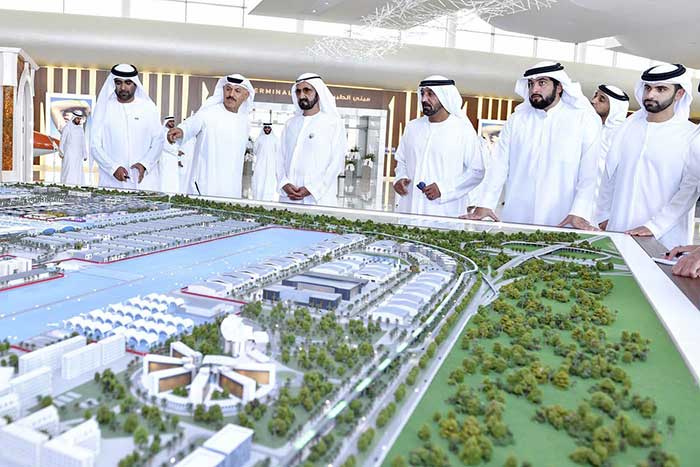 With a total of AED 17 billion of government and private sector investments, the Mohammad bin Rashid Aerospace Hub is designed to create an effective value chain for the aerospace sector and increase the GDP contribution of advanced industries to the emirate's economic growth. The 6.7 square kilometre Aerospace Hub comprises of the commercial strip, maintenance and technical support, business aviation, education and R&D.

Formerly named as Aviation District, the Mohammed bin Rashid Aerospace Hub is home to a five-star VIP Terminal facility which hosts some of the world's leading Fixed Base Operators for private jets, including Falcon Aviation, JETEX, and Jet Aviation, providing major business entities bespoke aviation services and seamless connectivity, and proximity advantages to the world's largest airport in the making, the Al Maktoum International Airport.

The Aerospace Hub has a dedicated education and R&D cluster aimed at building a comprehensive aviation campus where institutes can set up and optimize delivery of top-level learning programs. It is also home to the E2 Event and Exhibition Centre, a dedicated exhibition zone and permanent home of the Dubai Airshow and the Emirates Flight Academy.

H.E. Khalifa Al Zaffin, Executive Chairman of Dubai Aviation City Corporation (DACC) & Dubai South, said: "It is an honour to unveil the Mohammed bin Rashid Aerospace Hub in the presence of our leader H.H. Sheikh Mohammed bin Rashid Al Maktoum, Vice President and Prime Minister of the UAE and Ruler of Dubai, who continues to demonstrate his untiring support to the aviation sector and see his vision of growth and development, and the future of Dubai come into reality. With the aviation industry as one of the key growth industries, it is only fitting to name this incredibly important hub in his honour. The Mohammed Bin Rashid Aerospace Hub remains committed to elevating Dubai as the region's aerospace capital by ensuring that we advance through excellence and deliver value that will benefit millions."

H.H. Sheikh Mohammed also witnessed the launching of EZDubai, a 920,000 square-metre purpose-built e-commerce zone within Dubai South's Logistics District set to unlock vast potentials in online commerce. It provides a range of Logistics facilities and business solutions designed for startups, SMEs, innovation labs and incubation centers to support local, regional and trans-continental businesses serving both business-to-business and end consumers.

H.E. Al Zaffin added: "EZDubai is a pioneering effort by Dubai South to provide the local and regional e-commerce sector with a competitive platform that will boost further growth through a suitable business environment equipped with a range of high-quality infrastructure and supported by a facilitative regulatory framework, thereby enabling them to deliver faster delivery of products and services. We are confident that initiating this project will pave the way not only for large fulfillment centers, but for small and medium enterprises to tap Dubai's leading model of economic development and contribute to the emirate's GDP."

With the massive growth of e-commerce in the GCC and Egypt expected growth from USD 7 billion to USD 24 billion by 2022, EZDubai seeks to add a strong value to the sector by providing an efficient supply chain focused on structured regulatory framework, complete ecosystem, and the dual warehouse concept. The new e-commerce hub has six dedicated areas providing a total in excess of 550,000 sqm of leasable area for e-commerce and similar businesses intended as Last Mile Centers, E-Fulfillment Centers, Repair & Return Centers, Supply Centers, Business Blocks (shared buildings), and Business Blocks for Regional Headquarters.

Dubai South is envisioned to become a smart and sustainable city, preferred as the place to live, work and invest for at least one million people. As an economic platform, is the home of leading world events such as Expo 2020 and the Dubai Airshow, expected to provide at least 500,000 jobs and become an important hub for global trade and commerce.

@Dubai_South #EZone #AerospaceHub