Dubai Wood and Wood Machinery Show 2011 challenge - strengthening the global wood industry.
The global community is steadily treading the path of recovery in the wake of the recession which caused the world's economies to falter. Amidst countries redefining their economic recovery strategies, the Irish financial crisis posed uncertainties as to the world's economic stability and encouraged speculations as to whether another EU country will follow in its trail. However, Eastern and Central European countries, such as Poland and Switzerland, are looking at considerable growth in the coming years.
Wood commerce is one of the industries which are moving in a steady forward direction. Japan's 18% increase in housing projects construction and their continual use of imported wood predicts increase of hardwood log prices. A 20-30% growth of Peruvian wood and timber products is anticipated.
The growth of Canadian shipments of forest goods steps up and proves the forest sector as an essential industry. Malaysia has set its sights on a 60% increase in production and export of timber products over the next ten years.
Dubai enjoys a critical geographical location that is convenient for connecting wood traders, suppliers and end users from the east and west. As with the rest of the world's economies, Dubai is gradually reaffirming its economic prominence.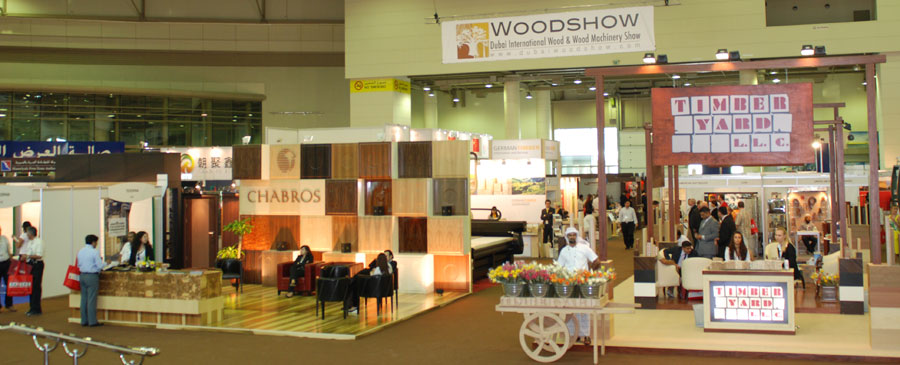 The Dubai Wood and Wood Machinery Show has brought together major players in the wood industry during its 5-year run. In April 2010, exhibitors from 40 countries showcased their products, explored and discovered strong business partnerships and benefited from the inflow of new techniques and technology in the manufacture of wood products and machinery.
Country pavilions were put up by Canada, China, Taiwan, Malaysia, France, Lithuania and the United States. Over 500 million USD in transactions since its inception attest to the Dubai WoodShow being a must-attend event for wood professionals who are seeking to expand their market shares.
In 2010, Dubai WoodShow introduced new features: the Dubai WoodShow Forum, Roundtables and Workshops. The Forum invited experts from the entire wood industry spectrum to voice concerns and discuss relevant issues for those vying for a wider business influence. The Roundtables provided a platform for participants to set up face-to-face meetings to explore mutually beneficial partnerships. The Workshops featured first-hand demonstration of the latest techniques and technologies in woodworking.
A new component which will make its debut at the Dubai WoodShow 2011 is the Furniture Components & Accessories and Semi-Finished Products Zone. Trusted manufacturers and leaders in the furniture industry will come together to exhibit innovations and top-notch products such as fittings, upholstery materials and furniture fabrics.
Dubai WoodShow is the hallmark for wood products such as timber, hardwood, softwood, plywood and hardboards, wood and timber flooring, treatment products, spraying equipment and raw wood materials. Various wood machineries including boring and combining machines, blades and knives, drying kiln equipment, plywood manufacturing machinery and dust control equipment, to name a few, will be exhibited.
Wood and wood products importers and exporters, suppliers and end users are expected to gather at the Dubai WoodShow to display products, forge beneficial partnerships, and explore actionable strategies to expand into the global wood industry.
Attend the Dubai WoodShow on April 5th-7th, 2011 to increase your wood industry presence and gain profitable affiliations. Contact the WoodShow through phone (+971 4 28 29 299), fax (+971 4 28 28 767) or e-mail ([email protected]) to ensure your participation.