Dulsco Receives Dubai Chamber CSR Label for its Outstanding CSR and Sustainability Efforts
Dulsco – the regional leader in people solutions and environmental solutions – has received the CSR Label from Dubai Chamber of Commerce and Industry in recognition of its efforts in corporate social responsibility and sustainability in an awards ceremony held on September 30, 2018 at their headquarters.

The award recognises companies that implement outstanding CSR and sustainability practices in the GCC region, doubling as a framework to inspire establishments across the region to develop and amplify their sustainability and responsibility strategies. The Label covers the main impact areas of Sustainability and CSR: Environment, Community, Workplace, and Marketplace.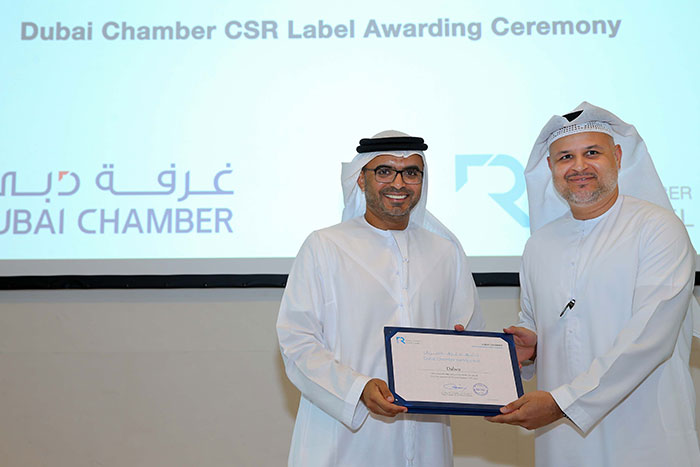 H.E. Majid Saif Al Ghurair, Chairman of Dubai Chamber of Commerce and Industry congratulated Dulsco for receiving the Dubai Chamber CSR Label for the third time and lauded the company for its successful CSR and sustainability efforts. He described the CSR Label as a very effective development and diagnostic tool which has been used by many companies in Dubai to gauge their approach to sustainability and CSR, adopt best practices, and assess their organizational impact. He noted that Dubai Chamber recently presented the Label to 18 companies that were recognized for their CSR and sustainability efforts in the first half of 2018, adding that a total of 344 companies have received the Label since its launch in 2010.

Mahdi Mohammed, Dulsco's Director of Business Support Services, said: "We are honoured to be receiving this recognition from the Dubai Chamber of Commerce and Industry, which has long championed corporate social responsibility among the business community in Dubai and been at the fore of efforts to promote sustainability and give back to the community."

David Stockton, Dulsco's CEO and Managing Director said "Dulsco has always been a sustainability leader in its own right. Our CSR programme has accomplished more than 860 volunteering hours for 32 different CSR activities in 2018. Our greatest weapon to achieve this feat has always been our employees; Dulsco has a diverse workforce comprising professionals and experts from 55 different nationalities, and we are committed to promoting open communication and encouraging feedback as a means to empower our employees, in addition to providing welfare and sport activities for them."

With a robust CSR programme, Dulsco conducted 60 corporate social responsibility events in 2017 alone, with five key focus areas: Education, Environment, Health Advocacy, Regional and Global Causes, and Employee Volunteering. Over 1,160 training hours witnessed until August 2018, in addition to over 1,780 training hours in 2017.

Dulsco was one of 18 companies recognised by the Dubai Chamber of Commerce and Industry in 2018. Since its launch, the Dubai Chamber CSR Label has provided a Diagnostic Model and an instrument to help companies of all sizes and sectors define and improve their corporate sustainability and responsibility strategies, policies, and management practices.