Dutch Designer Ruben van Megen Connects Cultures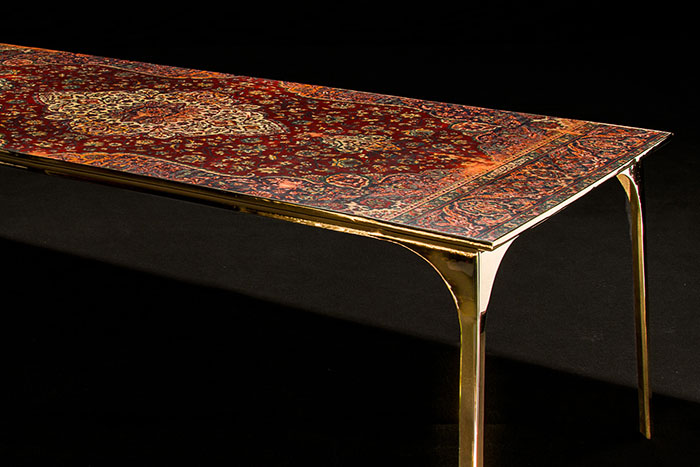 Image Credit: Petra Lenssen Photography
Café 6116
Ruben shows a coffee table and dining table from the internationally successful Café 6116 collection. The collection is inspired by and made of Persian rugs that found their way to wealthy Dutch families through the international trade missions in the Dutch Golden Age (+/- 17th century).
They decided to use the Persian rugs as tablecloths because they were thought too beautiful and valuable to be stained by muddy shoes. The popularity of the Persian table runners continued to grow until around 1950, but they have almost disappeared from Dutch interiors. Ruben van Megen honors the Dutch use and the craft of the Persian weavers by offering used carpets a new stage.
The carpets hold years of memories and secrets that Ruben van Megen fossilizes. Scars, which remain visible after processing, are proof of that past life. The items in the Café 6116 collection contain actual Persian rugs. Every piece is unique. The full collection contains dining tables in two shapes, two different coffee tables and floor pieces. Every piece is made to order. The collection is rewarded with several European design awards like Red Dot.
About Ruben van Megen
Design studio Ruben van Megen is based in the Netherlands and stands for high end design. As a Dutch designer, Ruben is always looking for stories that are worth telling. He also uses and develops new materials and is always questioning the status quo. It is self-evident that recycling, material or immaterial, is part of the designs.
In 2012 Ruben van Megen graduated from the Design Academy in Eindhoven and started his own design studio. Since 2016, Jeske van Gerven has also been part of the studio as a concept developer.
Ruben van Megen has won several important European prizes, such as the Red Dot Award and A'design Award. The work has been included in various museums and in some world-class design galleries.
Ruben van Megen seeks cooperation with specialists in various designs. For The Cord Connection, specialism was found at Change: a company with three large and high end hairdressing salons in the south of the Netherlands. The experienced team of hair specialists is very successful in competitions; they have won dozens of prizes in the last 30 years.
The exhibition of Ruben van Megen can be found in booth V29 and is part of the entry of Ventura Project. In the 1000 square meter booth, 31 emerging designers and brands are presented from 9 different countries. INDEX runs from 17 to 19 September 2019 and is open from 11am to 8pm. INDEX is part of the he Middle East Design & Hospitality Week and takes place at the The Dubai World Trade Centre.
@INDEXDubai #INDEXDubai