Eikon Exé: The Essence of Materials Assumes a New Shape
Introducing Eikon Exé. Natural, prized materials, selected specifically to provide an unmistakable textured effect, define the identity and personality of every environment.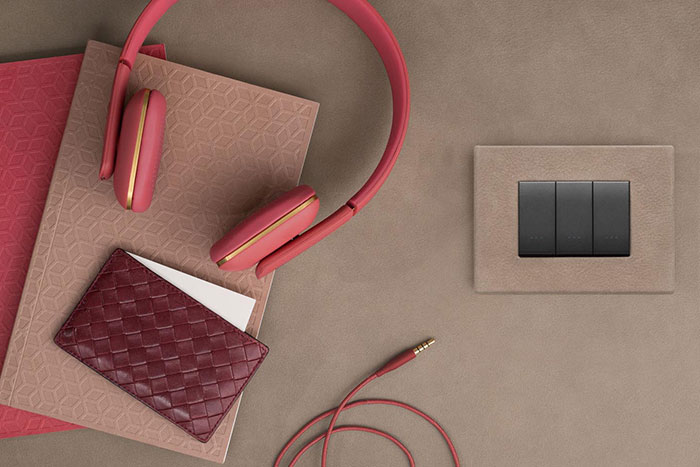 Essence of shape: pure and with slim profiles to emphasise the design. Squared corners and striking silhouettes that blend in seamlessly with any environment. 100% Made in Italy stylish details, but, above all, the essence of materials. Six different materials, accurately selected, are available with 27 different top-quality finishes, which create a different, original soul each time. To offer an extensive variety of solutions suited to any environment.

With its unique versatility, Eikon Exé also lends itself to countless stylistic interpretations. Cover plates with special materials and special-colour controls allow the most important
products to be customised, making them truly unique. Moreover, to enhance the look of accommodation facilities, the cover plates can feature a specific logo, whereas the buttons and
controls can be stylishly engraved with icons and pictograms, including those chosen by the customer.

To accommodate minimalist style fully, Eikon Exé was designed specifically not to protrude from the wall. Indeed, using a special support, the lighting point can be installed flush with the
wall to guarantee pure – yet simple – silhouettes that blend in with any environment. And with Eikon Exé, essential appeal becomes smart. The long-standing relationship between
people and their home is reinterpreted with simplicity and user-friendliness, to give rise to a smart building. Connected solutions with matching styling offer a total user experience marked by energy efficiency, comfort and safety.

The simple yet striking design that distinguishes Eikon Exé cover plates has also led to two new types of control: Vintage and Flat, to lend interior design projects an even more distinctive
exclusiveness and a bolder identity, in keeping with the latest stylistic trends which, on the one hand, propose the come-back of traditional silhouettes and, on the other hand, show a preference for linear shapes.

Vintage electromechanical controls embrace the mesmerising silhouettes of the past, restyling them with a modern twist to give settings an exclusive, slightly retro style. Elegant and
ergonomic metal levers are available in the matt White, Anthracite Grey, Brushed nickel, brushed dark Bronze and Gold finishes. Combined with the Eikon Exé cover plates in the same finish, they offer perfectly matching styling, sophisticated yet at the same time pure and linear.

Available in both the electromechanical and home automation system versions, also on KNX standard, Flat controls are instead the epitome of pureness and linearity. The squared, flat
shape of the controls creates a pleasant effect flush with the surface to emphasise the textured appeal of the cover plate. With their matt White, Anthracite Grey, brushed Nickel, brushed dark Bronze and Gold finishes, an elegant Total Look can be achieved in keeping with the latest style trends, such as simple silhouettes and clean-cut, elemental geometries.

To accommodate the usage requirements of various countries, Eikon Exé also offers an extensive range of devices in the most common international standards, distinguished by modular versatility that allows the various functions to be combined in a flexible way.
@vimar_com #vimar_com #Vimar