About Armoured and Unarmoured Cu/XLPE/PVC Cable
Armoured and Unarmoured Cu/XLPE/PVC Cable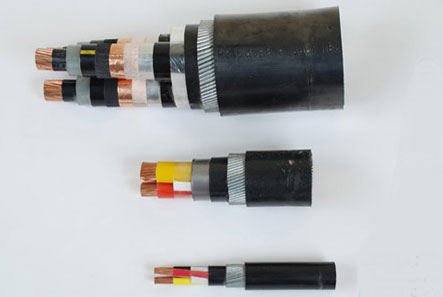 Description:
Also known as Power Cables, these cables are used in all industrial as mediums to efficiently transfer power from place to place. Cables of this group are used for the building of electrical installations for transmission and distribution of electric power.
These cables are normally manufactured using Cross-linked Polyethylene (XLPE) as per BS 7655 and are in the Voltage range of 0.6/1kV. The cables can be either manufactured with Aluminium or Copper Conductors depending on the requirements and also a layer of Armouring with steel wires can be added.
Optional materials are also available for protection from electrical distortions and effects caused by water, oil, gas, and petrochemical penetration such as outer sheathing options containing special additive resins and treatments that act as specific preventives such as "anti-termite", "anti-radiant" or "oil, chemical, gas, alcohol resistance".
Application:
These cables have been designed mainly for power distribution and mostly for underground use where they are unlikely to suffer any mechanical damage. They can be mounted outdoor or inside facilities, in channels or in ditches. They are mainly in the construction and infrastructure building sectors. Cables are sheathed in PVC or XLPE and allow for normal maximum conductor temperatures of 70° and 90° respectively with 160° and 250° for short circuit conditions.
Core Identification:

1 core : Black
2 cores : Brown – Blue
3 cores : Brown – Blue – Green/Yellow
4 cores : Black – Brown – Blue – Black – Black or Green/Yellow
5 cores : Black – Brown – Blue – Black – Black or Green/Yellow
Over 5 cores: Black printed with white numbers with Green/Yellow
Standard:

XLPE Insulated Armoured Cables are as per BS 5467
XLPE Insulated Single Core
Unarmoured Cables as per BS7889
XLPE Insulated Unarmoured Cables are as per IEC 60502 – 1
Our Brands:

DUCAB
Saudi Cable Company

26 05 13 - Medium-Voltage Cables
26 05 19 - Low-Voltage Electrical Power Conductors and Cables
26 05 23 - Control-Voltage Electrical Power Cables
26 00 00 - Electrical
26 10 00 - Medium-Voltage Electrical Distribution
26 20 00 - Low-Voltage Electrical Distribution