Elegance, Energy and Harmony in Adriana Lohmann's Lamps by the Interior Design Italia
A former model with Brazilian origins, Adriana Lohmann arrived in Italy in 1989 to experience first-hand styles, fashion and design trends, tailoring techniques and decorative techniques of the fashion world.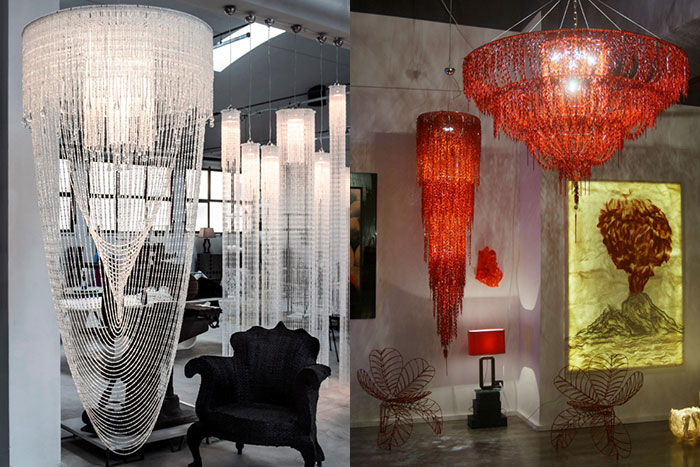 INFO/PHOTO COURTESY: www.theinteriordesign.it
By mixing various types of materials such as crystals, pieces of metal, plastics and fabrics, as well as terylene ribbons and aluminum chains, she creates luminous scenographies by creating lamps that harmonize the rooms of the houses, combining the oriental knowledge of Feng Shui-i, always with an eye fixed on eco-sustainability.

Harmony and form are the key words, useful to give energy and character to the environment. Adriana has succeeded, thanks also to her experience as a consultant on the harmony of furniture and healthy living, to free and manage the energy of many places, bringing magic and enchantment in the implementation of its brilliant and intuitive method of placement of lamps, often positioned next to each other.

Bead rows that can reach kilometers long, resistant and suitable for producing large-scale scenographic pieces as well as smaller pieces suitable for domestic use, and also eclectically positioned, as in corners or house profiles, to example in the bedroom instead of "any" lampshade, with the aim of making the ambiance more intimate and particular as well as, at the same time, unique.

Other more usual positions, such as in the space created by the stairwell or centered on large dining tables, give a light and a pleasant climate, as well as classic elegance to the guests. Many of her collections, such as the "Jelly Drops Colonna" suspended from the ceiling, light and applicable with a simple hook, also have a peculiarity that makes them absolutely unique, easy, us-able and "ready to use": the electric connection wall. These lamps are often customizable, shaped in many different colors and materials, each of them is a unique piece made entirely by hand.

Furthermore, prices are competitive, they are reasonably priced despite the luxurious appearance and the final look suggesting the exact opposite. And the sense of sophistication and perfection that is found within environments set up with one or more lamps by Adriana Lohmann that leads to the perception of not being able to do without it.