ELY by BAT: The Vertical Blind for Your Complete Privacy and Safety
Designing areas and spaces while keeping people wellness as number one priority it is an art that requires vision (to conceive maximum comfort) and strategy, in order to optimize spaces and help business in becoming more profitable.

BAT offer considers both important aspects and while on one hand allows you to create environments for perfect relax, on the other hand allows you to use the new spaces to empower your commercial potential.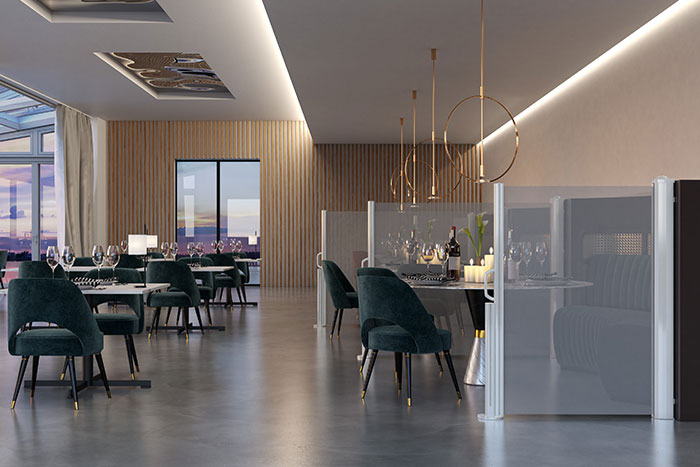 ELY is the new side blind for outdoor use and meets the contemporary needs of restaurants, hotels, boutique hotels and other venues by increasing the spaces that can be used by customers safely and by modernizing the outdoor area of their premises.

Technically ELY is a side awning that can be produced with different colors and fabrics, meant to be used as a "separator" to create specific limited areas or to have privacy in large public outdoor spaces.

Thanks to its minimal design and a very easy assembly process, ELY is the ideal solution for the need of sun protection with high design profile. Extremely simple to install, ELY is characterized by a linear and compact structure with the new symmetrical cassette and support profile.

The practical handle can be installed frontally or laterally, while the wheel makes handling simple and safe for everyone. Up to four awnings can be connected to the central pole to divide the space into four different squared areas.

Thanks to this, outdoor spaces can be optimized and re-adapted: using BAT reliability as a weapon, restaurateurs and hoteliers can provide their customer with a high-level hospitality experience, in complete safety.

Once again, BAT Group is and remains the ideal partner for all of those who have design and well-being as top priorities: operators are also going to have the chance to work with more continuity and to add something to their venues both in terms of exclusivity of the location and of available seats.

#BATGroup #BatgGoupAwnings #VerticalBlind