Emerging Trends in Road and Street Lighting
LEDs are rapidly taking over the leadership position of discharge lamps in outdoor lighting. Is this just another lamp source or are there other consequences related to this switch in technology?

ENERGY REDUCTION IS THE MISSION, LED TECHNOLOGY IS JUST THE TOOL TO ACHIEVE THIS GOAL
Public lighting accounts for an important share of the overall energy consumption of a municipality or public authority. A large percentage of installed lighting schemes have reached the end of their life time. Depending on the country, we still see a lot of luminaires that provide poor and inadequate light levels and are equipped with lamps containing hazardous substances like mercury.

LED technology in combination with electronic drivers, integrated in a luminaire with optimised thermal and photometrical performances and equipped with dimming features for adaptive light schemes, can enable municipalities to reduce their energy consumption by 50 to 80%.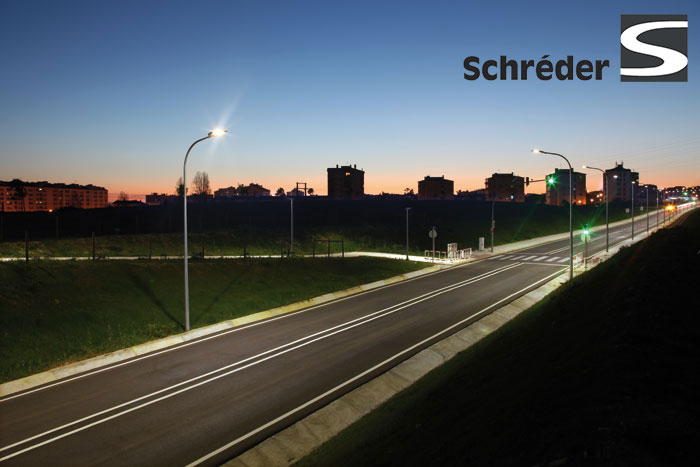 "WHITE" LIGHT FOR IMPROVED VISUAL PERFORMANCE
The white light of LEDs is typically offered in three binning categories (warm - neutral - cold). Neutral (4000K) and Warm (3000K) are used the most. The gap in performance between warm and neutral white is getting smaller, resulting in a light source combining technical performances with warm comfortable light. The typical spectrum of LED light, together with a much higher colour rendering capacity, provide undeniable improved visual performance compared with the more yellow light of sodium discharge lamps. This will enable the standardisation bodies to reduce the proposed light levels for a given application.

INCREASED LIGHT OUTPUT WHILE CONSTANTLY REDUCING COSTS
LEDs are semi-conductors following the Haitz law. This implies an exponential increase in light output (lm) per decade, combined with an exponential decrease in cost ($/lm) per decade. Such an evolution was unknown for conventional light sources, so far. This positive evolution of the light unit cost, enables a large scale introduction of LED luminaires in all kinds of public lighting applications, both for new and existing installations. Not just traditional street lighting, but also applications like tunnels, illumination, sports, industry, etc. are equipped or replaced at rapid speed. In some European countries, penetration rates of 50-70% for new installations have already been achieved, which is much earlier than anticipated in the most optimistic forecasts to date.

TRADE OFF BETWEEN INITIAL COST, ENERGY EFFICIENCY AND LIFE TIME (LUMEN MAINTENANCE)
LEDs can be driven at different drive currents. The resulting light output is not linear to the increase in drive current and as a consequence the wattage consumed. Higher drive currents may lead to a more pronounced aging process i.e. shorter life time or stronger decrease in luminous flux. The endcustomer must make the tradeoff between the afore-mentioned variables. This extra degree of freedom was also unknown in the case of discharge lamps.

IN THE DIGITAL WORLD OF LEDS, 'CONTROLS' TAKE THE LEAD
LED sources are driven by electronic gears or drivers. These units no longer just provide the appropriate drive current to the LEDs, but are equipped with additional features to adapt the light levels according to the origin and density of the traffic, period of the night, weather conditions etc. As a result, they provide an additional significant reduction in energy consumption. The use of sensors and cameras can further reduce energy consumption whilst increasing the level of comfort and safety.

Public lighting schemes no longer need to be uncontrolled stand-alone installations. Remote (wireless) management systems enable real-time status visualisation and reporting, the flexible set-up of lighting schemes, accurate energy metering, optimised maintenance programmes as well as integration in high level control software. It is a first and utmost important step in the direction of a Smart City concept.
Categories:
26 56 00 - Exterior Lighting