Emirates Insolaire highlights future growth plans
Emirates Insolaire LLC, a pioneer in the development of new solar technologies and a joint venture of Dubai Investments PJSC [DFM: DIC] and SwissINSO Holding Inc., has announced that the sales of its world's-first KromatixTM glass and coloured solar panels are rapidly growing across all sectors and becoming the reference for perfect integration of solar energy production on buildings.

In a constantly rising demand for solar power, the integration of KromatixTM technology is creating demand across the globe, including the GCC countries, Europe, North and South America as well as Korea, Philippines, Malaysia and Japan, among others. The solar panels from Emirates Insolaire offer high efficiency, with each PV module capable of generating 170 to 190 watts per square meter for roof or 110 to 130 watts per square meter for facades.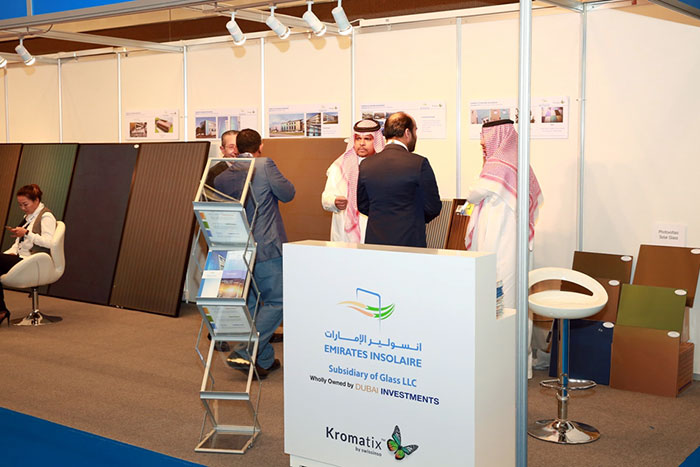 The company is presenting its unique technology and highlighting the adaptability of its sustainable technology as also the growth potential it offers at Solar Middle East exhibition – the region's largest solar trade event at Dubai World Trade Centre. Over 140 exhibitors and 4000+ visitors from 85 countries are attending the exhibition.

Rafic Hanbali, Managing Partner of Emirates Insolaire, said: "The solar photovoltaic industry is booming with the end-market demand hitting new growth levels every quarter. Emirates Insolaire's revolutionary coloured solar panel technology is on the threshold of a massive growth curve and the company is bullish about the potential that the product holds in the region and globally."

Emirates Insolaire's first-of-its-kind coloured solar panels and photovoltaic modules enhance the design and aesthetics of building façades and can be easily integrated to any façade, roof and carport.

The KromatixTM solar glass has already been installed in Europe on many buildings' facades and roofs. Emirates Insolaire is presently supplying its glass for a number of ongoing projects and has also won the supply contract to one of the world's largest building integrated photovoltaic (BIPV) system.