Emirates Steel Receives ISO 56002:2019 Innovation Management Certification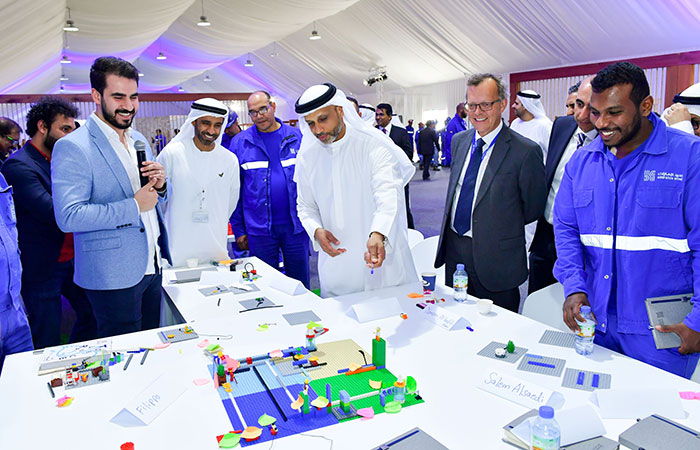 Emirates Steel, the only integrated steel plant in the UAE and a subsidiary of the General Holding Corporation (SENAAT), today confirmed that it has obtained the ISO 56002:2019 Innovation Management certification as the first steel manufacturer in the world and the first industrial company in the UAE to receive this certificate. The standard is a great way for individuals and organisations to explore best practices of innovation management, and to create a benchmark for innovation capabilities development and advancement.

The achievement coincides with UAE Innovation Month, running this year under the theme 'The UAE Innovates in Preparation for the Next 50 Years'.

Commemorating Innovation Month with its own company-wide celebration, Emirates Steel Innovation Week took place from 24 to 26 February at the Emirates Steel headquarters in Mussafah. The innovation celebration has drawn the participation of 20 industry leaders and innovators, as well as Engineer Saeed Ghumran Al Remeithi, CEO of Emirates Steel, and employees across operations.

Emirates Steel Innovation Week featured an inspiring workshop 'Women in Innovation', 'LEGO Serious Play – Water Corrosion and Operational Issues' – a problem-solving workshop dedicated to water challenges, an activation workshop by Winnovate, powered by SAP, and several thought sessions on knowledge management.

The event also featured booths allocated to the company's suggestion scheme 'Think Smart' where six employees presented their inventions. In addition, visitors and employees experienced new technology demos such as VR and 3D printing, exhibited by cutting-edge suppliers.

Speaking on the occasion, Engineer Al Remeithi said: "As a leading steel manufacturer in the UAE, leveraging cutting-edge innovations across our operations is a top priority for Emirates Steel. During the event, we officially inaugurated our very own innovation lab and launched our comprehensive Innovation Strategy. Within its mandate, our new strategy seeks to employ more innovative technologies and practices, enhancing our offering of a world class innovative steel manufacturer powered by leadership aspiration, a knowledge-based creative culture and a customer centric mind-set."

He added: "Emirates Steel Innovation Week reinforced our commitment to innovation to our customers and employees alike. Our accolades in this regard – from the newly obtained ISO 56002:2019 Innovation Management certification to the recently won Sheikh Khalifa Excellence Award (SKEA) in the Diamond Category – testify to the success of our efforts to promote a culture of excellence, as well as our dedication to implementing the latest technologies and conforming to best industry practices."

With the aim of driving innovation throughout the company, Emirates Steel launched the 'Think Smart' employee suggestion scheme in 2018. As part of the initiative, the company established an online platform to enable all employees to share their creative ideas focused on quality and continuous improvement. To date, more than 1,000 ideas with the potential to generate AED50 million in savings have been submitted via the portal.

@Emirates_Steel #Emirates_Steel #EmiratesSteel