EmiratesGBC hosts WELL Building Standard workshop
Emirates Green Building Council (EmiratesGBC), the independent forum aimed at conserving the environment by strengthening and promoting green building practices, organised a WELL Building Standard workshop in Dubai's Time Oak Hotel & Suites under the theme, 'WELL Today and Tomorrow: Scaling Health Happiness + Well-being for Strategic Impact across Organisations.'

The workshop was organised with the International WELL Building InstituteTM (IWBITM) to shed more light on how design, operations and behaviours within the building space can be optimised to improve the health and well-being of the people inside buildings. IWBI delivers the WELL Building Standard, a leading global rating system and the first to be focused exclusively on the ways that buildings, and everything in them, can improve comfort, drive better choices, and generally enhance, not compromise, health and wellness.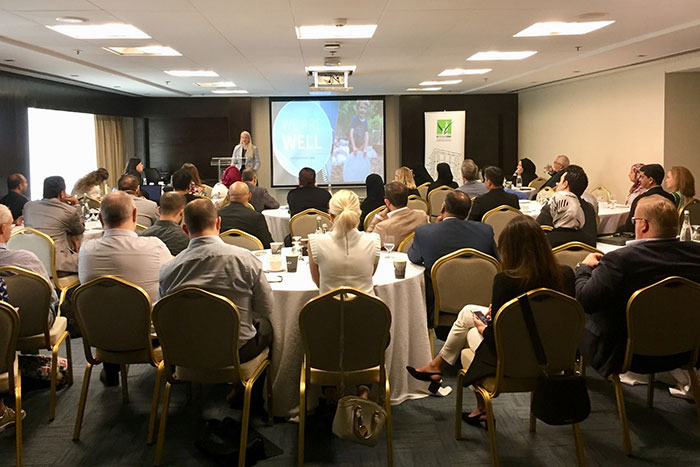 At the workshop, experts from IWBITM and EmiratesGBC, as well as subject-matter experts, offered insights on the WELL Building Standard through a series of new case studies demonstrating the impact of WELL.

The WELL Portfolio programme, which enables organisations to scale their efforts related to health and well-being across multiple buildings or spaces within them, was introduced at the event. Launched in July and rooted in the impactful strategies contained within WELL v2, WELL Portfolio is designed to maximise the positive outcomes related to human health and well-being along with the value of buildings.

Experiences of UAE organisations and properties that focus on health and wellness were also presented at the workshop followed by Q&A from the audience. Speakers from IWBI included Kate Rube, WELL Faculty and Vice President of IWBI, and Ann Marie Aguilar, WELL Faculty and Director of Operations – EMEA, IWBI. Kate drew on her expertise in active design, urban planning, and policymaking at the discussion, while Ann-Marie highlighted the practical aspects of how business development and technical teams can work towards WELL Certification. Subject matter experts who contributed to the panel discussion included: Farah Yassine, Principal Consultant - Sustainable Resource Management, WSP; Katherine Bruce, Sustainability Consultant, AESG; and Mahesh Kamath, Projects Manager at Works Interiors LLC.

Saeed Al Abbar, Chairman of EmiratesGBC, said: "The value of buildings where people thrive and prosper is integrally linked to the wellness of its residents. Sustainable living also incorporates this important aspect – where buildings and spaces are designed and maintained to promote the welfare of the people. As the UAE focuses on driving green built environments to achieve its vision for sustainable development, incorporating standards for well-being adds further value for the building and its occupants. Our workshop on WELL was specifically designed to highlight the importance of how we can all work together to improve global health through the design of the places where people live and work."

Ann Marie Aguilar of IWBITM added: "As one of the first WELL workshops in the Middle East, we are extremely pleased to collaborate with EmiratesGBC to communicate the importance of advancing health and well-being in buildings across the region. Our goal, especially through WELL Portfolio, is to encourage organisations to prioritise people's well-being, as well as to achieve higher efficiencies by applying proven wellness strategies at scale. Through this workshop, we have underlined the long-term value that the WELL Building Standard brings to urban projects and to the community."

The workshop was supported by WSP and was attended by EmiratesGBC members and government partners as well as other industry professionals. Farah Yassine of WSP in the Middle East, who also represents EmiratesGBC on the organisation's Board of Directors, was a panellist at the event. Drawing on her experience and knowledge of social sustainability, Farah shared insights on how organisations in the region can benefit from integrating health and wellbeing in the built environment and solutions for achieving positive change.

EmiratesGBC regularly hosts and participates in multinational events, conferences and forums. It has also developed a suite of activities, inclusive of networking events, technical workshops, focus days and facilitated training based around specific issues related to the built-environment that meet the needs of its members, of the UAE community and the wider Middle East.

@EmiratesGBC #EmiratesGBC @WELLcertified #WELLcertified