EmiratesGBC Launch Building Retrofit Training Advanced Course
Emirates Green Building Council (EmiratesGBC), an independent forum aimed at conserving the environment by strengthening and promoting green building practices, will deliver its Advanced Course, under the Building Retrofit Training Programme, on 12 and 13 December 2018 in Dubai.

Conducted in partnership with the Dubai Supreme Council of Energy (DSCE) and Masdar (Abu Dhabi Future Energy Company), the Advanced Course is a two-day training, instructing industry professionals on the key elements of retrofit for existing buildings and supports the streamlining of their technical capacity for more effective post-retrofit maintenance and preventive care. Upon completion of the course, participants successfully passing the post course examination will become an EmiratesGBC certified "Building Retrofit Specialist".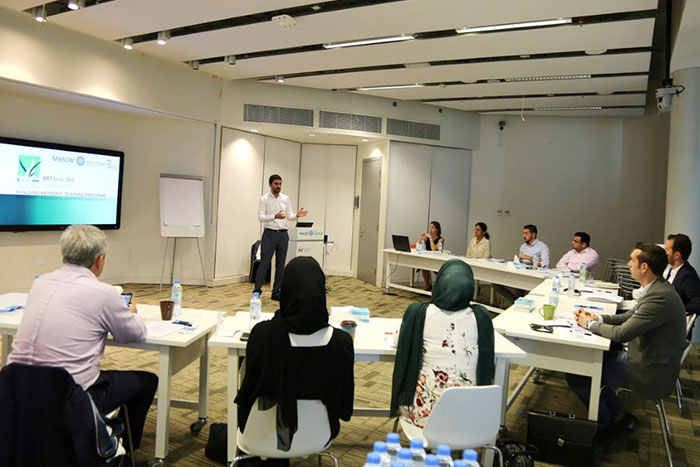 A pilot of the Advanced Course was attended by employees from the Civil Projects and Engineering team at the Dubai Energy and Water Authority (DEWA) in September.

Saeed Al Abbar, Chairman of EmiratesGBC, said: "Retrofitting existing buildings is fundamental to driving sustainable built environments and achieving the UAE's energy goals. Tackling the existing building stock is crucial in tackling global carbon emissions and achieving the global target of net zero carbon buildings by 2050 in line with the Paris Climate Change Agreement. EmiratesGBC's Advanced Building Retrofit course is specifically designed for professionals in the building sector to equip them with the skills to achieve highly efficient, sustainable buildings. Working collectively, we can significantly reduce the carbon footprint of buildings."

The Building Retrofit Training Advanced Course is designed for industry professionals with prior knowledge and experience of sustainability and retrofit methods. Participants are recommended to meet at least one of the following criteria to participate: a degree in Engineering or Architecture in addition to one year of relevant industry experience; a degree in Engineering or Architecture plus LEED AP, Sa'fat certified or Estidama PQP; relevant industry accreditation (CEM, CEA, CMPV); or a degree plus at least 3 years relevant industry experience.

The Advanced Course aims to deliver in-depth knowledge of building retrofit principles that are relevant to the MENA region and present holistic techniques for improving the environmental performance of existing buildings. It also provides participants with an organised list of economically viable retrofit solutions for different building typologies supported by the necessary technical information and financial metrics required to evaluate retrofit projects and energy efficiency measures. The course covers the limitations, financial implications, risks and benefits of the retrofit measures.

The Building Retrofit Training programme is based on the EmiratesGBC Technical Guidelines for Retrofitting Existing Buildings that is available in Arabic and English and serves as a valuable handbook for all industry stakeholders to achieve higher levels of energy and water efficiency by retrofitting existing buildings.

For more information and registration, visit the programme's homepage on the EmiratesGBC website.