EmiratesGBC seminar addresses challenges on 'greening' the hospitality industry
As part of its efforts to promote environmental sustainability in the hospitality industry, Emirates Green Building Council (EmiratesGBC), an independent forum aimed at conserving the environment by strengthening and promoting green building practices, hosted a seminar on 'Green Hospitality: Making Change Happen' in Dubai.

The EmiratesGBC Hospitality Programme Seminar addressed some of the current challenges hotels face with implementing green initiatives such as eco-labels and CSR strategies. The seminar brought together experts from the hospitality industry to share their experiences and identify best practices that can help bring positive outcomes.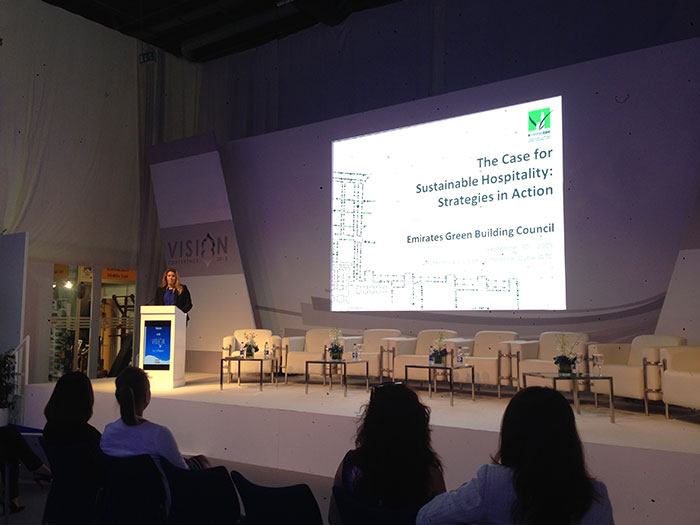 Amelie Zegmout, Board Member of EmiratesGBC, moderated a panel discussion with Nadine O'Connor, Housekeeping Manager at Jumeirah Creekside Hotel; Basant Kumar Kushwaha, Director of Engineering at Kempinski Hotel Ajman; and Bob Busman, Regional Responsible Business Coordinator Middle East at Carlson Rezidor Hotel Group. They shared their experiences in their journey towards sustainability, including the challenges they faced and their success stories.

At the seminar, the participants identified key areas, including design and operations, which can lead the way to green hospitality, as well as the advantages and difficulties in securing eco-certifications, such as Green Key, and how these can provide guidance in the process towards a more sustainable hospitality industry.

Saeed Al Abbar, EmiratesGBC Chairman, said: "The hospitality industry is a key contributor to the UAE economy, and the sector has an obvious role in supporting the energy efficiency movement in the UAE. By hosting this seminar, we aimed to provide a platform for all stakeholders in the hospitality sector to share their experiences and take home key learnings on best practices that can lead others in their path to 'greener' hotel environments."

EmiratesGBC is the national operator of Green Key, a sustainability certification programme for hotels and accommodations that was developed by the Foundation for Environmental Education. Recognised by the World Tourism Organisation and United Nations Environment Programme, the non-profit and independent programme is the largest global eco-label relating to accommodation. It offers clear guidelines to hotels in ensuring that a certain level of sustainability is being met, and provides guests with the assurance that the venue has a commitment to green practices.

EmiratesGBC regularly hosts and participates in multinational events, conferences and forums. The organisation has also developed a suite of activities, inclusive of networking events, technical workshops, focus days and facilitated training based around specific issues related to the built-environment that meet the needs of its members, of the UAE community, and the wider Middle East.