Empower bags a golden award at 103rd Annual IDEA Conference in Chicago.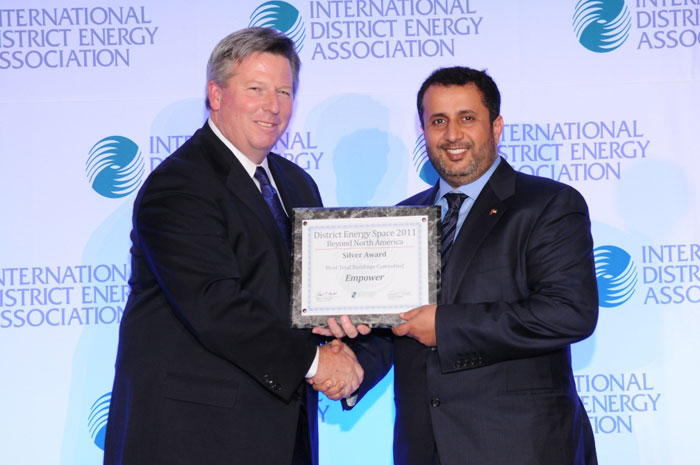 Emirates Central Cooling Corporation (Empower), the largest district cooling service provider in the region, has bagged the golden award at the International District Energy Association's (IDEA) 103rd Annual Conference held in Chicago, for the total square footage committed to district cooling and a silver award for the total number of buildings committed to the system. The awards were won against competition from top global companies from outside North America region.
Ahmad Bin Shafar, CEO of Empower said: "This is the eighth time we have won laurels at this international conference in our eighth year of participation. This recognition reflects our achievements in adopting world class district cooling infrastructure as well as recognizes our success in expanding the use of district cooling as an ideal economic and environmental solution for residential and commercial units, offices and hotels."
He emphasised that the operational savings in residential units compared with conventional air-conditioning technologies ranges between 40 and 45 per cent.
Bin Shafar added that Empower has emerged as a leader among district cooling companies in the Middle East and it adopts a clear strategy to preserve environmental resources for future generations by promoting the benefits of district cooling to the community and economy in the short and long run.
Bin Shafar paid great tributes to the calibre of the organizers of 103rd Annual Conference which was concluded under the theme 'Cooler, Cleaner Cities' beginning this month.
District cooling companies in the Middle East, led by Empower, are using global practices to serve their customers. The challenge for Middle East companies is greater as cooling services in this part of the world are required throughout the year, unlike western countries where their use is seasonal.
IDEA is a non-profit trade association that annually hosts a conference and trade show to showcase latest technologies and equipment in the district energy industry. The event gives attendees - including energy professionals, consultancies, government agencies and system developers - the opportunity to learn more about district cooling from a global perspective and meet a number of vendors and suppliers.