Empower completes district cooling infrastructure for iconic DAMAC Towers project
Emirates Central Cooling Systems Corporation (Empower), the world's largest district cooling services provider, announced the completion of district cooling infrastructure project network for 'DAMAC Towers by Paramount' which consist of four towers including an international hotel.

Earlier in 2014, Empower signed a contract to provide district cooling services for DAMAC Towers as it is serving this iconic project with 7500 RT through the second district cooling plant (BB-2) located in Business Bay in Dubai.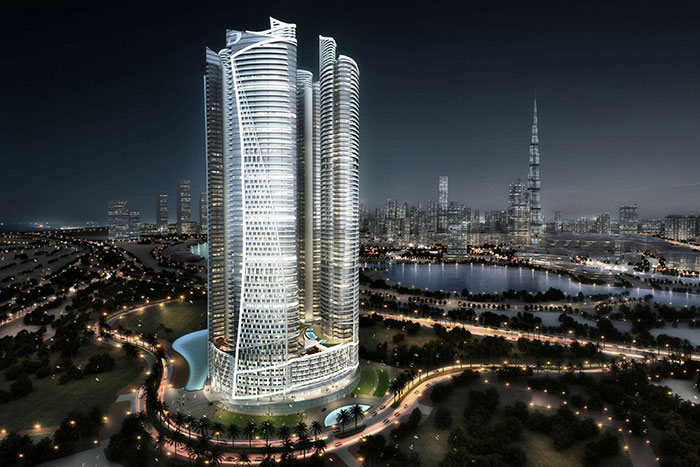 "Real Estate developers realise the advantages of district cooling service, so they are adopting it at their new developments." said HE Ahmad bin Shafar, CEO of Empower.

"From the design stage to construction and others, this project is poised to be an ideal place to stay. As part of our leadership position in district cooling, we are adopting the best and international cooling standards in the four towers," added HE Ahmad bin Shafar.

DAMAC Towers by Paramount Hotels & Resorts is a hotel and residential complex located in the heart of the Burj area, Dubai. This four-tower development comprising 1,200 luxury serviced suites in three towers, offers sumptuous living with a Hollywood flavour. The fourth tower houses the world's first Paramount Hotel and Paramount Residences. Each of the four towers stretches over 250 metres in height, joined by a multi-level plaza. Sophisticated yet inviting, suites feature contemporary design cues where elements of the California lifestyle are transported to Dubai in a distinctive 'Hollywood studio' feel.

"Our company continues to expand in Dubai by adding large projects to its portfolio of clients such as DAMAC Towers. Choosing us for landmark projects in Dubai demonstrates confidence and appreciation to our services and strategy that puts quality and efficiency at the top of our priorities," concluded HE Ahmad bin Shafar.

Empower currently operates more than 1,100,000 refrigeration tonnes (RT), providing environmentally responsible district cooling services to large-scale real estate developments, such as Jumeirah Group, Business Bay, Jumeirah Beach Residence, Dubai International Financial Centre, Palm Jumeirah, Jumeirah Lake Towers, Ibn Battuta Mall, Discovery Gardens, Dubai Healthcare City, Dubai World Trade Centre Residences and Dubai Design District, among others.