Evaporative Coolers Gain Share Over Traditional Coolers in the GCC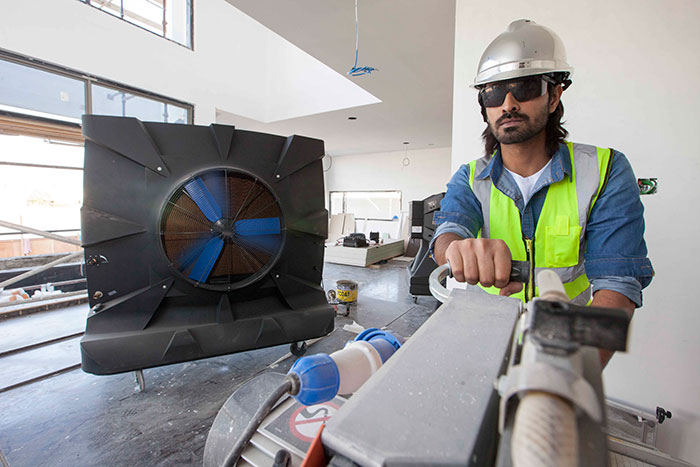 Portacool, LLC, the Texas-based global leader in evaporative cooling solutions, predicts double digit growth in the UAE and other parts of the Middle East and North Africa markets, which are expected to experience hotter climates as a result of forecasted weather patterns.

Scientists at the Max Planck Institute for Chemistry in Germany and the Cyprus Institute in Nicosia report that summer temperatures are forecast to increase more than twofold, reaching 50 degrees Celsius during the day and not lower than 30 degrees Celsius at night. For the 500 million inhabitants in the wider region, this means that public and private organizations have an obligation to residents to keep them out of harm's way especially in certain industries such as construction.

"There is an emerging consciousness when it comes to the well-being and productivity of workers on construction sites and those that work in hotter industrial environments. As a result, the deployment of evaporative cooling solutions in these spaces is increasing across the region," said Bob Mangiaforte, Vice President, Sales, Portacool, LLC.

According to experts, countries in the region will have to invest $100 billion in total by 2030 for new cooling capacity, and more than $120 billion for new power capacity. A few years ago, the UAE HVAC market stood at around $850 million and it is forecasted to cross the $1 billion mark in 2018[1] . In Saudi Arabia, recent economic reforms to create a more diverse and sustainable economy, applying efficient and responsibility at all levels, will lead to greater synergies between private and public sectors. Similarly in Qatar with World Cup 2020, new construction in the sporting, tourism, and hospitality infrastructure is at an unprecedented pace. Consequently, evaporative cooling deployments in the GCC are expected to grow as an alternative to high electricity and energy-consuming traditional cooling methods.

Additionally, heat stress remains a major challenge for workers who are engaged in outdoor activities in the Middle East and will remain so if innovations in cooling are not brought to the forefront. Sectors such as construction and those that require employees to spend long hours in temperatures exceeding 40 degrees Celsius can lead to exhaustion, heat stress, stroke and cramps, and even death if not properly identified and treated.

"There are clear benefits of our products in places where air conditioners are cost prohibitive or ineffective. Additionally, Portacool evaporative coolers provide comfort and safety to workforces that need to remain cool in order to work safely and effectively, while reducing costs and potential liability and downtime for the organizations employing them," commented Bob.

In additional to industrial applications, Portacool, LLC also offers a variety of portable evaporative products ideal for residential applications, including cooling for pool areas, decks and patios for garden parties, barbeques and other outdoor pursuits. Portacool portable evaporative coolers are sold via distributors and retailers across the UAE and in 56 countries globally. Portacool portable evaporative coolers can be purchased or rented from Ace Hardware in Dubai.