Every stage of construction supply chain to attend inaugural edition of World ecoConstruct.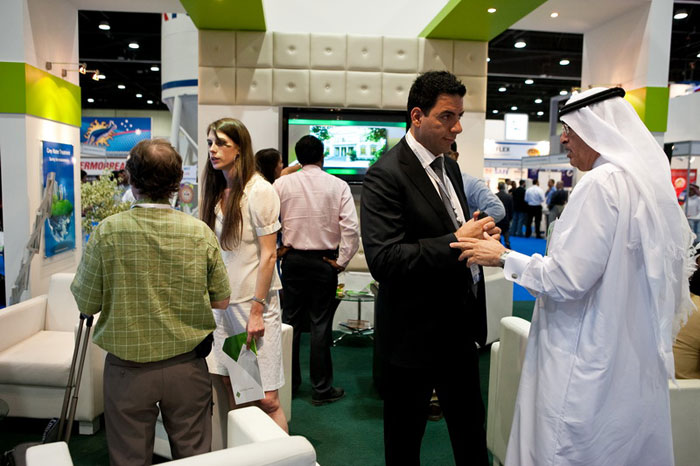 The inaugural edition of WORLD ecoConstruct – the pioneering 'green' construction industry event – is all set for a grand opening at the Abu Dhabi National Exhibition Centre.
The four-day exhibition, taking place from 22-25 April will put a spotlight on the growth of global sustainable design and construction of the built environment, at a time when the market for green building materials is projected to reach US$406 billion by 2015, according to research by ISIM, a provider of sustainable solutions.
Featuring 12 days worth of global summits, workshops and training courses, WORLD ecoConstruct is expected to attract more than 30,000 visitors and will be the centre of attention when industry heavyweights gather to learn how best to capitalise on innovative and sustainable construction.
The event is co-located with the 6th edition of Cityscape Abu Dhabi – the region's leading real estate development exhibition – and will uniquely bring together stakeholders from every stage of the construction industry supply chain.
The WORLD ecoConstruct Summit running alongside the main exhibition will host the largest assembly of leading policy makers, industry stakeholders and experts to discuss, debate and share best practice in green building design, materials and management.
At the same time, the infrastructure ARABIA Summit will provide a focused platform for public and private sector engineering and infrastructure professionals in the region to discuss the latest issues affecting the industry.
In addition to supporting the event as the Foundation Partner, the Abu Dhabi Department of Municipal Affairs (DMA) will also conduct training and awareness seminars on the latest environment, health and safety management systems and international building codes currently required by the Abu Dhabi government for all practicing building professionals.
Meanwhile visitors interested in witnessing firsthand the latest groundbreaking innovations and developments in sustainable building products and services can stop by the Future Build Showcase located in Hall 7.
Developed in partnership with Sustainable Knowledge Partner Masdar City, the Future Build Showcase is an interactive feature designed to drive business offerings to the global construction industry while creating awareness of the importance of building sustainable low carbon cities and infrastructure for the future generations.
Tsitsi Lynn Makuni, Exhibition Director of WORLD ecoConstruct, said: "One of the keys to solving global environmental issues is an increased collaboration between leading construction material producers and those charged with creating and delivering a low carbon future environment.
"WORLD ecoConstruct provides a unique showcase for this very purpose thereby linking suppliers of pioneering products and services with decision makers and stakeholders from across the Middle East, Africa and Asian Sub-Continent."
WORLD ecoConstruct is a collaboration between Abu Dhabi's two leading building and construction events, CityBuild and Arabian Construction Week, and will take place to provide a crucial sourcing and knowledge platform for the billions of dollars committed to major projects within Abu Dhabi and the surrounding region.
WORLD ecoConstruct is supported by Foundation Partner, the Department of Municipal Affairs, Sustainable Knowledge Partner Masdar City, Strategic Partner Emirates Green Building Council, Principal Sponsor Emirates Steel, Platinum Sponsor Rajhi Steel, Gold & Future Build Sponsor BADSF and is endorsed by the UAE Business Council for Sustainable Development.