Expanded Versa-Module Surge Protection Solution for All Low Voltage Electronic System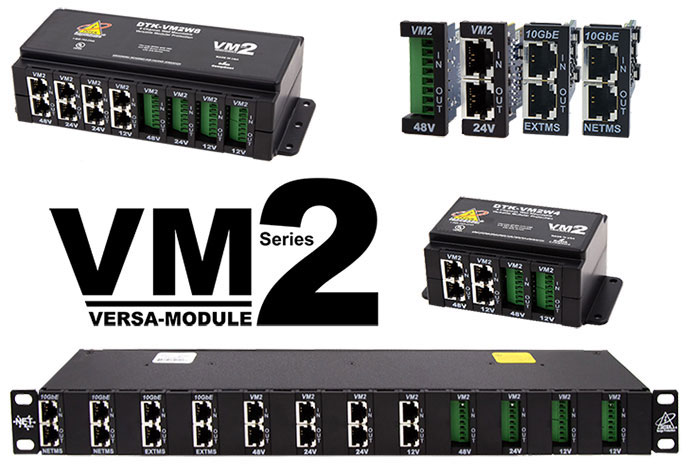 DITEK, the leading provider of surge protection solutions, announces the launch of a new modular surge protection solution that provides tailored multi-voltage protection for all varieties of low-voltage electronic systems. The new DTK-VM2 and DTK-VM2T Series product line offers 4, 8, and 24 channel enclosure options that accept a wide array of rapid-replacement modules designed to protect any combination of signaling, data, and low voltage power circuits from 5V up to 130V. All of the enclosures in the series accept modules equipped with either RJ45 or screw terminal connections, and all feature single point grounding for simple and fast installation and service. This unique and compact new solution simplifies implementation of comprehensive surge protection for all kinds of critical electronic systems, including surveillance, access control, fire, fuel dispensing, point-of-sale, communications, industrial controls, audio, and more.

"The new DITEK Versa-Module 2 Series is a breakthrough in compact, customizable surge protection," said Mike Molinari, Director of Marketing, DITEK. "Now every installation that includes low voltage signaling, data, or power can be protected with a mix of modular devices that match the specific needs of that system – with a single point ground connection that makes installation a breeze."

The DTK-VM2W4 and DTK-VM2W8 enclosures are designed to be wall mounted, and accommodate up to 4 and 8 Versa-Module protection modules, respectively. The DTK-VM2R24 is designed to be rack-mounted, and accepts up to 24 Versa-Module protection modules. As an additional flexibility benefit, all the enclosures come with a supply of blank cover plates, and are compatible with the popular DTK-NETMS and DTK-EXTMS Ethernet, PoE and PoE Extender protection modules.

Versa-Module protection modules are available in two types, with DTK-VM2 modules featuring RJ45 connections, and DTK-VM2T modules featuring screw terminal connections. Both types can be mixed in a single housing. Protection modules are available in a wide range of voltages to cover the needs of any low-voltage system, including 5V, 12V, 24V, 36V, 48V, 75V, and 130V service voltages. Versa-Module protection modules feature a hybrid design utilizing both SAD and GDT technologies for high-performance protection. Any combination of protection modules can be mixed in a single housing, allowing system installers to provide appropriate electrical surge protection for every part of a system. All of the protection modules are easily field-replaceable, allowing for quick restoration of protection when needed.

DITEK Versa-Module products are made in the USA, with a 10-year limited warranty.

Website:
https://www.diteksurgeprotection.com