Expert Chefs to Demonstrate Latest Trends in F&B in the Kingdom at Hotel Show
The Hotel Show Saudi Arabia is returning to Jeddah for its 6th annual edition next week and various live kitchens will be set up across the show floor demonstrating the latest local and international products and trends in F&B.

The Inter-Hotel Culinary Competition is returning for its highly-anticipated second edition, endorsed by WORLDCHEFS, The Saudi Arabian Chefs Association and Culinary Partner Unilever Food Solutions. Meanwhile Unilevers' stand will have its own dedicated kitchen where various new products and recipes will be revealed to the Saudi market for live demonstrations.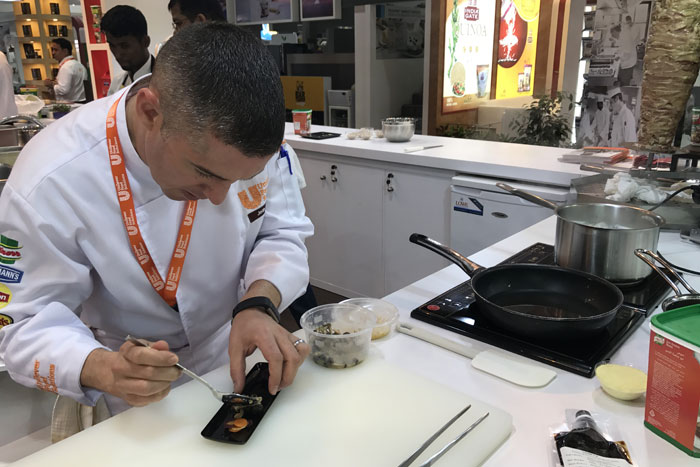 Chef Jean Van Der Westhuizen, Executive Chef Middle East, Pakistan and Sri Lanka, who will be cooking up a storm at the Unilever showcase at the event, commented: "The Saudi food industry grows differently to other markets. There has always been a growing popularity for importing international brands into the Kingdom and we can see that these have started to adapt more closely to the unique needs of Saudi Arabian diners.

"We want to cater to the specific needs of the customers in HORECA and their guests. Being at The Hotel Show Saudi Arabia gives us the opportunity to interact with the industry to identify their needs and wants, and share the latest local and international trends and insights.

"We are seeing that owners and managers of high-end hotels, restaurants, and business class travel are searching to enhance their guest experience through high quality natural flavors, and they also care about every detail of service. Pure Leaf, a premium tea brand, popular in the United States, is a great fit for this purpose.

"Less sugar-based beverages are increasingly important. Thus our launch of Lipton Freshly Brewed Ice Tea offers great alternatives to soft drinks to the more health conscious diner."

Unilever will also use The Hotel Show as a platform to highlight its latest innovation in its foods portfolio with 'Knorr Tomato Powder' - a product which transform 88 dehydrated tomatoes into 6.7 litres of rich tomato sauce in just one minute. The sauce is an innovative solution for Chefs delivering less wastage, more yield per pack, savings with storage space, and provides a highly versatile ingredient for use in many dishes.

The Unilever Food Solutions team will also share its latest, specialist advice for Ramadan at the Jeddah event, focusing on inspirational buffet recipes, monitoring dish consumption to manage costs, and reducing waste, to name a few.

See the latest trends in food and beverages in the Kingdom at The Hotel Show Saudi Arabia 2018 at the Unilever Food Solutions stand E98 and the second edition of The Inter-Hotel Culinary Competition – featuring the Chefs working behind the scenes at some of the Kingdom's leading hotels – 10-12th April 2018 at the Jeddah Centre for Forums and Events.

Find out more and register to attend The Hotel Show Saudi Arabia 2018 for free at: www.thehotelshowsaudiarabia.com