Experts present compelling insights on 'Powering Smart, Happy and Efficient Cities'
The newest trends in powering smart, happy and efficient cities with a focus on urban energy management were highlighted today at the opening day of the sixth Annual EmiratesGBC Congress at Pullman Dubai Creek City Centre hotel.

Organised by Emirates Green Building Council (EmiratesGBC), an independent forum aimed at conserving the environment by strengthening and promoting green building practices, and held under the patronage of the Ministry of Climate Change & Environment, the Congress hosted international experts in the field of sustainable built environments.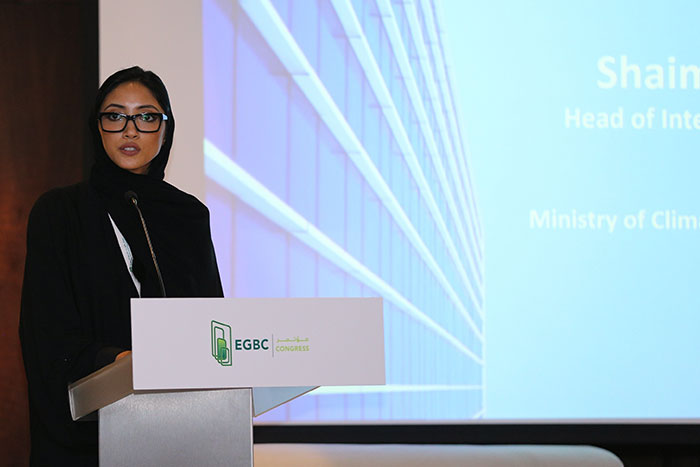 Shaima Alaydarous, Head of International Climate Change Policy, UAE Ministry of Climate Change & Environment
Welcoming delegates, Saeed Al Abbar, Chairman of EmiratesGBC, said: "Now in its sixth year, the Annual EmiratesGBC Congress has evolved as a definitive voice that presents actionable and real-world studies on how urban environments can be made more energy-efficient. This year, with a larger remit, we have focused on smart cities, complementing the vision of our leadership in promoting intelligent and energy-efficient environments. The deliberations of the Congress serve as guidelines on how various stakeholders across the construction industry and the community can come together to develop sustainable built environments that promote human well-being. The transformational steps that we take today is our investment in a greener future for our coming generations."

A highlight of the Congress was the keynote presentation via video link on well-being and cities by John Alker, Campaign and Policy Director; Steering Committee Better Places for People, UK Green Building Council; World Green Building Council. He provided the learnings from the first-of-a-kind 'Wellbeing Lab' launched by UKGBC last year.

Holley Chant, Executive Director of Corporate Sustainability, KEO International Consultants, and the Congress Moderator, introduced the event. The opening day witnessed insightful keynote presentations by Shaima Alaydarous, Head of International Climate Change Policy, Ministry of Climate Change & Environment; Rajiv Rajgopal, Regional Director, AkzoNobel Middle East & Africa, and Samira Al Rais, Director of Policy and Strategy Sustainable Development, The General Secretariat of the Executive Council.

The Congress hosted discussions under three themes: Powering Efficient Cities, Powering Smart Cities and Powering Happy Cities. Opening the 'Powering Efficient Cities' sessions, Karim Elgendy, Founder & Coordinator; Senior Sustainability Architect, Carboun Initiative, made a keynote presentation on 'Emissions in the Middle East,' examining local, regional and international clean energy strategies, as well as the role of retrofitting the existing building stock to achieve the necessary targets.
This was followed by a panel discussion on 'Clean Energy Strategies' moderated by Elgendy, and attended by Meshayel Omran Essa Lehsooni, Director of Clean Energy, Clean Energy Department, UAE Ministry of Energy, and Faisal Ali Hassan Rashid, Director, Demand Side Management, Supreme Council of Energy.

Shaikha Ahmad Al Falasi, Engineer - Sustainable Energy Programs, Mohammed Bin Rashid Space Center, made a presentation on The Autonomous House followed by visual presentations on 'Powering Smart Cities' by a senior executive from Ernst & Young.

Saeed Al Abbar opened the 'Powering Efficient Cities' session with a keynote presentation on 'Accelerating Building Efficiency.' A panel discussion followed with Christos Mimikopoulous, Executive Director Solar, Etihad ESCO; Michel Abi Saab, Manager of Sustainability, Masdar; Charles Blashke, Founder and Managing Director, Taka Solutions; and Maria Malo, Business Development Manager MEA, AkzoNobel.

A WELL certified office case study on 'Powering Happy Cities' was made by Sreya Vempatti, Environmental Coordinator, AESG. This was followed by a panel discussion on 'Wellbeing in Buildings' moderated by Holley Chant with Richard Fenne, Principal & Studio Chair, Woods Bagot; Sreya Vempatti; and Hrvoje Cindrić, Associate, Middle East Urbanism Leader, Arup Associates.

The second day is dedicated to a field visit to City Centre Me'aisem where a workshop and a Green Building Tour of the LEED Platinum Core and Shell Property will take place. The Majid Al Futtaim team will present the history, highlights and challenges relating to the project.

AkzoNobel is the Principal Sponsor of the Congress, Majid Al Futtaim is the Venue Sponsor and Clean Energy Business Council, Emirates Environmental Group, EWS-WWF and Middle East Facility Management Association are supporting Associations.

Rajiv Rajgopal, Regional Director, AkzoNobel Middle East & Africa, said: "The sixth Annual EmiratesGBC Congress serves as an important platform to discuss built environment sustainability, covering all aspects that drive energy efficiency. Through our support to the event, we are highlighting our three equity drivers – Sustainability, Innovation and Human Cities. Through our innovative range of environment-friendly and aesthetic coating solutions, we are partnering in the concerted efforts to secure a greener and more energy-efficient built environment."

The sixth Annual EmiratesGBC Congress is a carbon-neutral event. All the emissions from power consumption, heat energy and refrigeration, among other infrastructure; the journeys of participants to the event; catering and lodging for the participants, and event-specific materials and waste is being calculated and will be offset against a clean energy project.
Website:
http://www.emiratesgbc.org