Farnek secures ESCO accreditation
Leading UAE-based total facilities management company Farnek, has been officially accredited as an approved Energy Services Company (ESCO) by Dubai's Regulatory Supervisory Bureau (RSB).

The scheme was set up to give building owners, developers and managers added confidence when contracting ESCOs. Now they can be secure in the knowledge that the accredited companies have the necessary qualified management and staff and are on a sound financial footing. And in addition, specific to Farnek's case - a successful track record of consulting on many energy saving projects throughout Dubai.

The decision to approve Farnek was made by an accreditation board which assessed them according to set criteria, such as experience, capabilities, financial strength, HSE and equipment.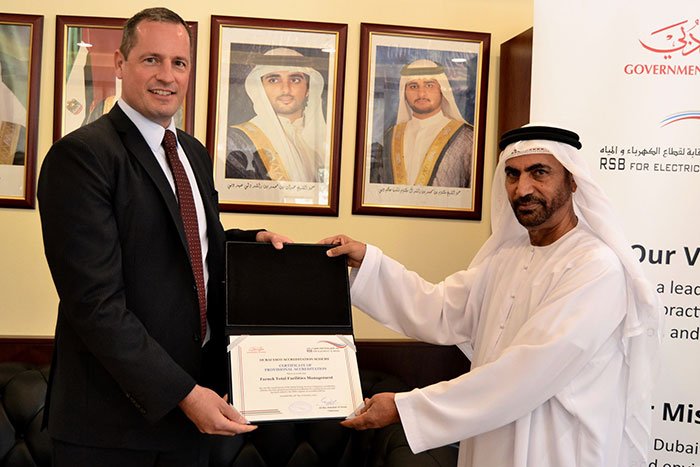 HE Ali Bin Abdullah Al Owais, Chairman of RSB, presents the certificate of accreditation to Markus Oberlin, CEO, Farnek.
"This is official recognition that we are fully equipped to identify, design, deliver and finance energy reduction for building owners and developers as we believe this creates more cost-effective buildings and a healthier environment," said Markus Oberlin, CEO, Oberlin.

Members of the accreditation board come from the RSB and from Etihad Energy Services, which was established to fulfil the role of "super-ESCO" in Dubai, to implement a city-wide strategic buildings energy efficiency programme, with tangible social, environmental and economic benefits.

The ESCO accreditation scheme is an initiative of the RSB intended to encourage the development of a flourishing energy services sector, after the Dubai Integrated Energy Strategy 2030 set ambitious targets to improve energy efficiency by 30% in the emirate by 2030.

This is supported by a demand side management (DSM) strategy which is overseen by the Dubai Supreme Council of Energy. The DSM strategy found that the retrofitting of existing buildings would be integral to mission if its energy efficiency targets were to be achieved and the delivery of retrofit activity requires an energy services market with sufficient capability and capacity.

Under the ESCO programme, the RSB has also designed two energy performance contracts which cater for the two main approaches to energy performance contracting.

The shared savings model refers to ESCO investment into the equipment and materials to generate energy efficiencies and is remunerated from a predetermined percentage of the savings generated.

"An ideal solution for building owners who want to reserve their cash-flow and retain their capital," said Oberlin.

The guaranteed savings is a more traditional and popular model, whereby an ESCO would recommend implementing energy-saving solutions (ring-fenced by contractual key performance indicators) and the building owner provides the financing.

"With this model, building owners acknowledge that any investment will attract a return, based on the energy saving performance of the building. However, both of these contracts are intended to be fair and balanced and allocate risk proportionately between the ESCO and the building owner.

"With over 30,000 potential retrofit projects to be carried out in Dubai before 2030, it is essential that the primary savings, made from energy efficiency initiatives, are reinvested as capital, to upgrade the infrastructure of the building, further improving energy efficiency levels.

"To put some figures on that, typically pay-back periods vary from one to three years for modest investments and four to eight years for higher Capex investments," added Oberlin.

One of Farnek's strengths is its team of consultants with CEM (Certified Energy Manager), CMVP (Certified Measurement & Verification Professional and other valuable diplomas and years of experience in energy auditing and efficiency not only for ordinary buildings, but also Green Buildings. Farnek delivers energy recommendations using the latest technical standards, skills and technology solutions for hotels, malls and other commercial buildings, residential buildings and staff accommodation facilities.