Farnek wins MEP contract for IMG Worlds of Adventure
Leading UAE based total facilities management company, Farnek, has been awarded an initial 15-month Mechanical, Electrical & Plumbing (MEP) contract for IMG Worlds of Adventure, the world's largest indoor theme park, opening 15 August 2016, which is wholly owned by the Ilyas and Mustafa Galadari Group.

The contract, which will start immediately, entails MEP maintenance of the full IMG Worlds of Adventure site that spans an impressive 1.5 million square feet, including the food and beverage, retail and cinema areas.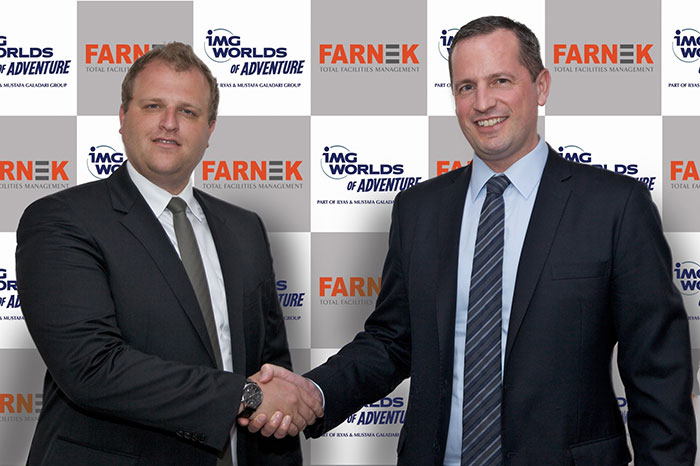 Commenting Markus Oberlin, CEO of Farnek, said, "We are extremely proud to partner with IMG Worlds of Adventure as this extensive project highlights our core technical and critical competencies.

From both an operational and commercial perspective, it is essential that IMG Worlds of Adventure offers its customers the safest and most exciting experience, with minimal downtime of the rides and attractions."

"Although the rides themselves will be serviced by specialist operators, Farnek will support them by offering MEP maintenance in the immediate vicinity and throughout the site," added Oberlin.

Lennard Otto, CEO of IMG Worlds of Adventure, also commented, "Farnek has been chosen for its technical and critical competency and its operational methodology. Farnek already manages a multidimensional portfolio and so has proved it can handle projects of varied scope. We look forward to working together as we continue to progress towards the opening of IMG Worlds of Adventure this August."

Situated within City of Arabia, along Sheikh Mohammad Bin Zayed Road, IMG Worlds of Adventure will be Dubai's first international theme park. It brings together two renowned global brands Cartoon Network and MARVEL and introduces original concepts, IMG Boulevard and Lost Valley – Dinosaur Adventure, to provide a mesmerizing immersive theme park experience.

With a daily capacity of up to 30,000 people, IMG Worlds of Adventure will feature a unique array of adrenaline-pumping roller coasters, thrilling rides, and spine-tingling attractions, bringing the latest in family entertainment to Dubai. The destination will also offer a variety of themed retail stores, exclusive dining venues, and a 12-screen state-of-the-art Novo cinema.

Farnek's other significant contract wins amounting to a combined amount of over AED 10 million include MEP, HVAC maintenance, cleaning, waste management and clerical manpower outsourcing services, for leading UAE based firms Du, Cummins, Mashreq Bank and Emaar's Gold & Diamond Park. Farnek also holds the ultimate trade reference, the maintenance contract for the tallest building in the world, Burj Khalifa.