Fenwick Elliott Aims to Futureproof Construction Industry as It Announces Plans for International Hub
Leading construction and energy law firm Fenwick Elliott has announced it is making significant investment in 2019 to strengthen its global ties, including relaunching the Dubai office as its international hub.

The Dubai base, located in Jumeirah Lakes Towers, currently serves UAE, Saudi Arabia, Kuwait and Oman territories with growing opportunities across the MENA region. It was first opened in 2015 in conjunction with Ibrahim Law Firm, headed by partners Patrick Stone and Ahmed Ibrahim.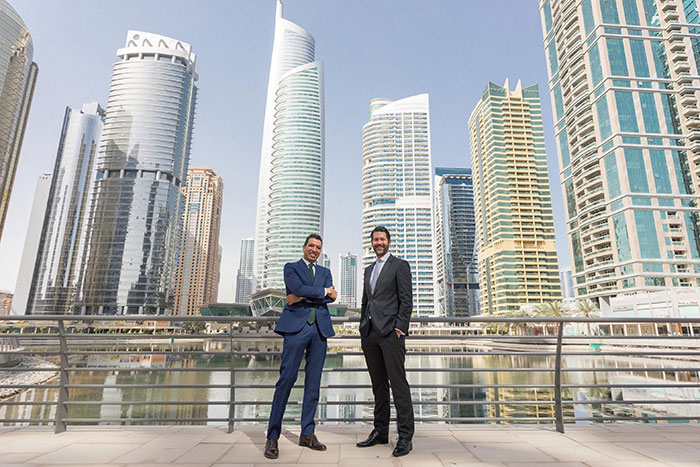 Fenwick Elliott Dubai partners Patrick Stone and Ahmed Ibrahim.
While Fenwick Elliott employs 50 lawyers as a specialised construction and energy law firm, Dubai hosts a growing team of partners and associates, and with the move to make the city its main overseas base, there are imminent plans to expand further into new, larger premises.

Already amassing extensive experience in the Middle East having acted for contractors in relation to projects like Palm Jumeirah, Doha Expressway and Dubai World Central, the firm plans to capitalise on increasing demand for its services in the UAE and Saudi in particular in the next 12 to 18 months.

Patrick Stone said: "It's an exciting time to be at the forefront of our Dubai operation as we look to cement our presence in the UAE and explore new opportunities further afield. We are continually investing in our business here and to make way for new faces and improved facilities, we hope to relocate into a larger space in the coming months."

The announcement coincides with a recent seminar held in London, which addressed the emergence of technology in construction and its potential impact; the first in a series of thought leadership events Fenwick Elliott will be involved in this year.

The Legal 500 top tier firm warned against new legislative and contractual risk issues associated with digitalisation and developing technology in the industry, such as the use of BIM, drones and 3D robotics.

Chaired by senior partner Simon Tolson, the event saw a panel of experts present talks including partners Jeremy Glover and Jonathan More, senior associate Dr Stacy Sinclair, as well as Erland Rendall, founder of Atorus Consult Ltd and Wavelength chief scientific officer Dr Ben Gardner.

Delegates representing a large number of the UK's major construction, engineering and property services companies, decision makers and local government influencers attended Strand's ME London hotel to hear from the panel.

Simon, alongside the speakers, called for the industry to modernise by embracing what is now possible in design to move from mass production of standardised components to mass customisation, while remaining vigilant to the legal issues surrounding modern methods of construction and DfMA (Design for Manufacture and Assembly) for off the peg approaches.
Simon said: "Technology is a key component of engineering, construction and energy law projects we specialise in as lawyers. In the law and data management machine learning has arrived and using AI to dig deep into unstructured data is something we care a lot about conquering to help our clients get to solutions fast.

"The phrase 'modernise or die' has never been truer. We can now conduct feasibility studies and manufacture via 3D robotics for instance. Joining the dots between this big data and learning what can be achieved with the new toolkit available from analytics is the key.

"In the same vein, the massive explosion in data has created data manageability challenges for companies around the world and their harnessing of cloud-based storage. Legal issues will continue to evolve with developing technology but the more we embrace it and find solutions, the more we will be able to lever from the digitally-driven world…

"Our vision is that through establishing standardised approaches, we can improve the whole-life performance of built assets and create higher quality, cost-effective buildings that are more comfortable to live and work in, resulting in fewer disputes."

Ahmed Ibrahim added: "The legal implications of technology in construction are more prevalent than ever and this applies globally. The smarter we design and procure buildings, the more competitive we become in driving costs down and improving productivity. We're looking forward to guiding our international clients on these matters through the changing landscape ahead."

As part of its growing seminar programme which will have a continued focus on digital and tech related areas in the context of construction, Fenwick Elliott is planning its first event in the UAE. One of its experts will also look at the topic of "AI & Construction Law: an essential and inevitable partnership" in the next edition of Fenwick Elliott's International Quarterly industry newsletter, which will be released this June.

Fenwick Elliott has a rich history of over 30 years, consistently named in The Legal 500 and is renowned for outstanding practice and specialist expertise in the construction sector.

@FenwickElliott #FenwickElliott