FLIR Launches VP50-2 Non-Contact Voltage Detector
FLIR Systems, Inc. (NASDAQ: FLIR) has announced the FLIR VP50-2 Non-Contact Voltage Detector and Flashlight with three alarm types for safer, easier field-troubleshooting and verification of electrical installations.

The VP50-2 is designed for professionals who service electrical equipment in residential, commercial, and industrial facilities to reliably check whether an AC circuit is live before beginning work; detect voltage on exposed conducting parts or through insulation; identify live wires within electrical panels, switches, and outlets; and trace live wires and map circuits.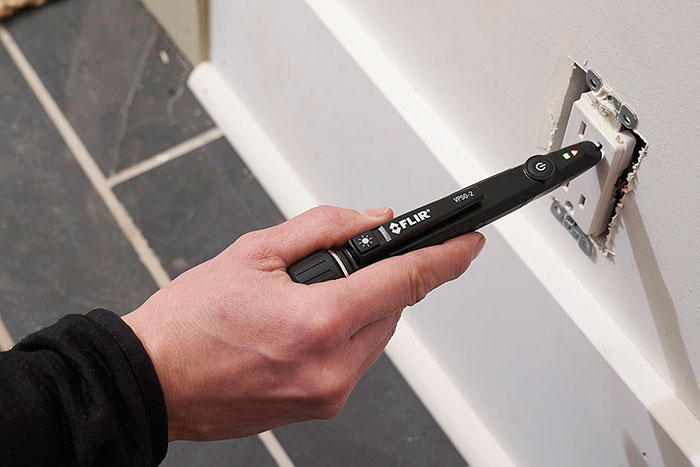 Featuring multi-colored LED lights, vibration, and sound feedback alarms, the VP50-2 can alert professionals of live voltage, ensuring that inspectors do not miss these notifications in loud or dark locations. Further, the VP50-2 is built for years of trouble-free operation, providing an anti-roll case body and durable construction that can withstand a 3-meter (9.8-feet) drop onto concrete.

"With triple alarms and a rugged, drop-tested design, the VP50-2 is an ideal tool for anyone servicing electrical equipment, including electricians, service technicians, building inspectors, home inspectors, and general contractors," said Rickard Lindvall, General Manager, Solutions Business at FLIR. "This new voltage pen provides the features needed to improve work efficiency, safety, and it's built to last for years."

The VP50-2 also features a CAT IV 1000 V safety rating which allows this easy-to-use electrical tester to quickly and safely identify the presence of AC voltage without contacting wires in any outlets.

The VP50-2 is for countries with 100-120 V electrical outlets. The VP52-2 has the same features as the VP50-2 and is for countries with 200-240V outlets.


@FLIR #FLIR #ThermalImaging #InfraredCamera #ThermalCamera #VoltageDetector
Categories: