FLIR's New Premium Imaging Moisture Meter Finds Hidden Moisture Fast
Finding the source of a water leak or moisture intrusion isn't always simple or obvious. The damage might be evident on a living room ceiling, but the source of the moisture could actually be coming from an upstairs bedroom window or shower leak. Sometimes you can't see signs of moisture at all. Luckily FLIR just released the MR176 Imaging Moisture Meter Plus with IGM (Infrared Guided Measurement) technology, which shows moisture restoration and remediation professionals exactly where to measure. The MR176 has all the measurement capabilities needed to troubleshoot moisture issues fast and confirm it before pulling out the drywall saw.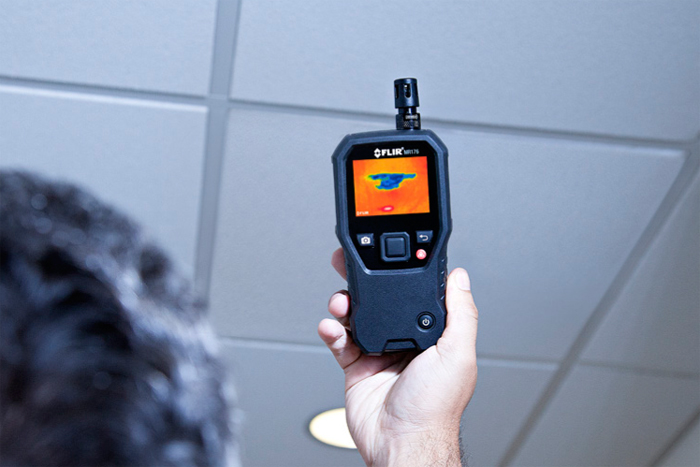 The FLIR MR176 is a premium meter with a built-in thermal imager that visually guides water damage experts to the precise spot that needs further testing and investigation. They'll find problems faster and may catch unknown ones they miss with a standard moisture meter. A quick thermal scan can show them where the evaporation process isn't up to speed, making blower and dehumidification equipment adjustments easy so they can ensure that the room will be completely dry within a few days.

The MR176 delivers flexibility in both sthermal imaging and measurements including pin or pinless moisture measurements, four thermal imaging color palette options, customizable moisture and environmental readings on the thermal image, and a built-in thermo-hygrometer with a field-replaceable temperature/relative humidity sensor. Industry pros can keep a spare temperature/relative humidity sensor on hand, and when it needs to be replaced – switch it out on site – and get right back to work without any downtime.

When moving room to room gathering environmental measurements, MR176 also features a Progressive Environmental Stability Indicator that shows when relative humidity readings have stabilized, eliminating the traditional guesswork of response time.

It's portable, it's durable, and its easy-to-use menu system allows pros to get more work done in less time.

The MR176 even has a full line of compatible probe accessories to help measurements in challenging spots – on rough or uneven surfaces, in wall cavity insulation, and in sub-floor or hardwood.
Categories: